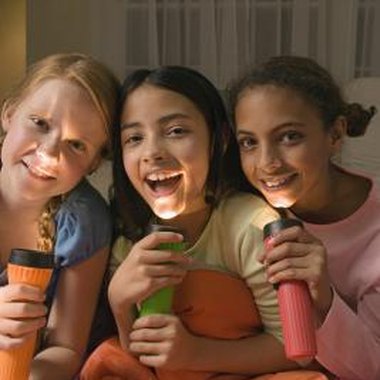 A slumber party is a time for children to invite over their friends to stay the night. When hosting a slumber party for 8-year-olds, keep the guests involved in the party throughout the evening with entertaining games. Games will prevent boredom and give the guests a chance to win prizes they can take home as mementos of the party. Some prize ideas include plush pet pillows, sleeping masks and pillowcases.
Contests
Give the 8-year-olds a chance to show off their creativity with a few contests. Contest ideas include a fashion show, dance contest and singing competition. Place several clothing items and accessories in a box for the children to use for a fashion show. For dancing and singing contests, have the guests perform individually or in groups to their favorite songs. Give the party guests 20 minutes to prepare their performance. Award prizes for the best, silliest and most creative performances.
Plush Animal Games
Put a twist on the classic "Hot Potato" with a game of "Hot Animal." Ask all the children to sit in a circle and hand a stuffed animal to one player. Play music and tell them to pass the animal around the circle. When the music stops, the player holding the animal is out of the game. The last player remaining in the game wins. Ask each party guest to bring her favorite plush animal to the party. Place all the animals in a pile and blindfold each player. When you say "Go," they must crawl to the pile of animals and find their plush animal by feeling it. The first player to find her plush animal wins the game.
Beach Ball Games
Play a few games using inflatable beach balls. Write questions and dares all over the ball. For example, "Who is your crush?" and "Sing the chorus to your favorite song." Have the guests sit in a circle and hand one player the ball. She must toss the ball to another player in the circle. That player must answer the question or do the dare that is under her right thumb. For each completed dare or answer, the player earns five points. The player with the most points at the end of the game wins. Another idea is indoor volleyball. Tie a rope across the room and have the guests play a game of volleyball using a beach ball.
Hunt Games
Since most 8-year-olds love candy, create a candy scavenger hunt for the party guests. Hide candy all over the party area and have them hunt for it. They can keep the candy they find and the player who finds the most candy wins an additional prize. Have a party favor hunt by hiding slumber party favors for the guests to hunt. Some favor ideas include miniature flashlights, travel-sized products, toothbrushes, toe socks, body glitter and small bags.
Photo Credits
Jupiterimages/Brand X Pictures/Getty Images