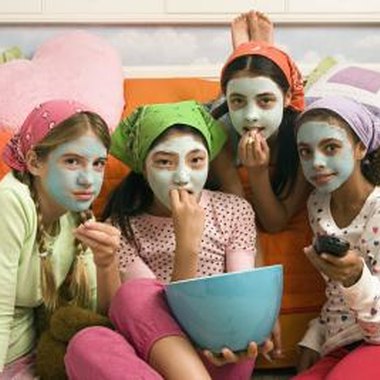 No slumber pajama party is complete without playing a variety of games including indoor and outdoor games. Brainstorm game ideas with your child while making other preparations for the party, such as making the food or moving the furniture to clear space for sleeping bags. Ask your child which games he and his friends will enjoy most before making any final game decisions.
Makeover Games
Provide a table full of makeup and hair tools and accessories as well as a rack of clothing for an evening of makeover games, if you have a group of girls. Teams can be assigned in groups of three or four, with one girl acting as the "model" and others as the "makeup artists and stylists." Participants are allotted a certain amount of time to give their model a unique look with award ideas including "most creative," "most chic" and "wackiest." Prize ideas can include goody bags of makeup samples.
Karaoke Games
Karaoke game are another slumber party game option and can be played with any number of games from "American Idol" to "Glee" to "Karaoke Revolution." Judges can be assigned to pick players to move on and for elimination though group voting is also an option. Another idea is to play karaoke games tournament-style, with players moving on by correctly singing the lyrics of each song as opposed to singing ability.
Tag Games
Pajama parties do not have to be limited to indoor games only. Party goers can have fun running around in their pajamas playing assorted tag games such basic tag, freeze tag and Ghost in the Graveyard, which involves assigning one participant as the ghost, who must then find a hiding spot. The other participants must then look for the ghost, who once found runs after the players in an attempt to catch one and make that person the new ghost.
Scavenger Hunts
Those throwing slumber parties who have large houses and yards can set up scavenger hunts using items throughout the home and yard. Items kids can look for can include particular types of leaves, animals they must then photograph, action figures and kitchenware. Prizes are awarded for teams that find the most items on their lists. Another scavenger hunt option is to hide prizes, such as small toys and chocolates, around the home or yard and provide clues for participants to find them.
Photo Credits
Jupiterimages/Brand X Pictures/Getty Images