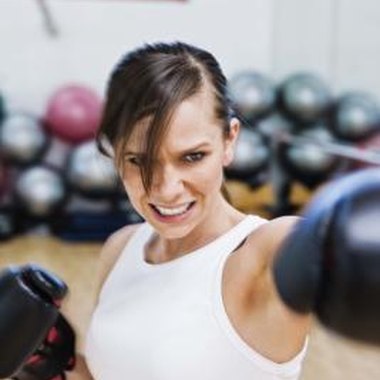 Boxers describe their position to the opponent based upon ranges. As a boxer, you can slip from just in range to the edge or range -- where your opponent cannot hit you -- to avoid a jab quickly. Alternatively, you can slip either to the left or right, called the inside and outside, or a jab to remain within range without allowing your opponent to make contact.
Step

1
Control your range by standing in the boxing stance. This means that the leg on the same side as the dominant arm is back while the other leg is forward. The feet are about shoulder width apart.
Step

2
Stand at the long range mark from your opponent. This means that he can hit you, but only when his arm is completely stretched out. Drop the back knee. This moves your body from long range to the edge of range. Slip back into range by straightening the knee.
Step

3
Slip to the inside or outside of the jab by standing in the boxing stance. Bend your knees a few inches and lean to the outside of the jab, so that you are looking to the side of your opponent's shoulder to slip outside. Slip to the inside of the jab by leaning to the inside of your opponent's body, so that you are looking at your opponent's chest. Slip back in or back out accordingly to avoid jabs.
Photo Credits
Jupiterimages/Brand X Pictures/Getty Images