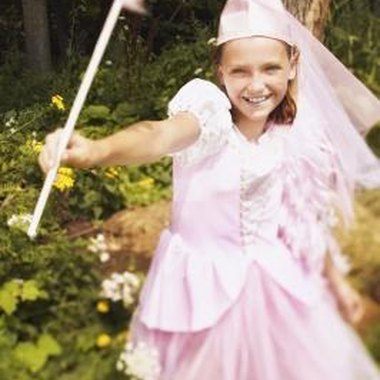 The Disney version of "Sleeping Beauty" was released in 1959 and cost $6 million to create, the most expensive animated film of its time. "Sleeping Beauty" was nominated for an Academy Award for its musical score, based on the Tchaikovsky compositions from the original ballet. Incorporating this blockbuster film into a birthday party is easy and the theme can appeal to both boys and girls.
Princess Couture
The most recognizable aspect of "Sleeping Beauty," especially for girls, is Princess Aurora. Purchase tiaras and beaded necklaces from a party supply store and put them on each guest as they arrive. You could also have a craft station where the kids make construction paper crowns or hennins, the pointy princess hat with a veil attached at the top. Have sparkles and gem stickers available for decoration. You could even have a throne for the guest of honor. Cover a regular kitchen chair in a fancy sheet and decorated with streamers.
Knights and Dragons
"Sleeping Beauty" is a great theme for boys' parties as well. Work in the action and adventure aspects of the film instead of focusing on Princess Aurora. Give party guests toy swords or have them dress up in knight costumes. The evil villain, Maleficent, is a witch who turns into a giant black and purple dragon, so incorporate these colors into the party theme. You could hire an actor to dress up as a dragon or have an inflatable dragon the kids can "slay." Have a craft station where kids can make shields and design their own coat of arms.
Fairy Festivities
The fairies are an important part of "Sleeping Beauty." In the original story there are seven fairies, but in the Disney version there are only three. Each fairy is represented by a different color, blue, green and pink. On the invitation, ask guests to dress in one of these colors and buy fairy wings for them to wear when they arrive. Color code the table with paper plates, napkins and cups in the fairy colors. Toss glitter all over the table and call it "fairy dust." The overall effect is a springtime, pastel color scheme that would be perfect for a garden venue.
Sleeping Beauty Color Schemes
The most used color scheme for "Sleeping Beauty" is pink and gold. Pink is the color of Aurora's princess gown and gold is the color of her hair, tiara and necklace. Aurora actually wears a purple and black outfit for most of the film, but if you plan on purchasing Disney products and accessories for the party, all of them depict Aurora in pink. Purchase pink and gold balloons and streamers and have a pink frosted cake. For a royal atmosphere, look for gold tone candelabras at thrift stores or garage sales and decorate the table with them, using pink candles for the party.
Photo Credits
Jupiterimages/Brand X Pictures/Getty Images