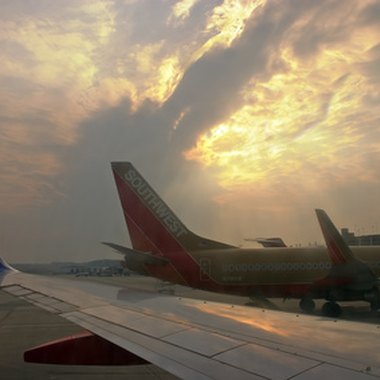 Bumper-to-bumper traffic in Chicago can make catching a peak-hour flight difficult. Hotels in the immediate area of the airport, with free parking and transportation to the terminal, offer a stress-eliminating solution for planning your trip. You can wake up refreshed after a good night's sleep and arrive for your departure flight with plenty of time to spare.
Carlton Inn: Midway International Airport
The pet-friendly Carlton Inn Midway offers budget-priced accommodations just two miles from Chicago Midway International Airport. You can pre-arrange the hotel's complimentary shuttle 24 hours a day for runs to the airport, CTA train, local bars, restaurants and office buildings. Upon arrival at the airport, dial 41 on the courtesy phone near baggage claim for a pickup. Rooms have separate table and armchair seating and an invigorating color palette in shades of lime, eggplant and sea blue. The hotel offers free guest parking and Internet access. Amenities include fitness and business centers. The hotel serves a free hot breakfast daily with yogurt, fruits and hot sandwiches.
Holiday Inn Express: Midway International Airport
The Holiday Inn Express, a mere mile from Midway International Airport, offers round-the-clock shuttle service to the airport. You can sit next to the fireplace in the comfortable lobby or on a cushioned chair on the sunny patio. In your guest quarters, bedding and curtains in shades of mocha and chocolate get a lift from punchy wall colors in tomato and cherry. Sleek lamps and flat-panel LCD televisions sit atop modern furniture pieces. The sharp sports bar has team memorabilia and abundant big-screen TVs for tuning in to every game. The hotel has a fitness center, business center and indoor swimming pool.
Hilton Hotel: Chicago O'Hare International Airport
The Chicago O'Hare Airport Hilton sits on the O'Hare International Airport grounds in Terminal 2. You can rent a room nightly or at a discounted day rate from 9 a.m. to 6 p.m. Hilton welcomes your pet in select rooms. Guestrooms have two-tone orange checked bedding that complements autumn-colored plaid window treatments. Reclining leather armchairs and a spacious work desk provide designated areas to relax and work. The Serta Suite Dreams custom bed and Crabtree & Evelyn bath products will refresh you pre-flight. A sports bar, deli, 1920s-style supper club and a contemporary American restaurant round out the eateries at your doorstep.
Sheraton Gateway Suites: Chicago O'Hare International Airport
The recently refreshed, smoke-free suites at the Sheraton have contemporary furnishings in botanical-inspired hues with separate living areas and signature Sweet Sleeper luxury bedding. The hotel's Link@Sheraton lounge offers Microsoft connectivity hubs and free Internet. The hotel has complimentary shuttle service 24 hours a day to the airport, which is less than two miles away, and free parking for guests. If you are traveling with a pet, don't forget to request a Sweet Sleeper pet bed for your suite. On-site, Luna Grill serves casual American fare all day long, and 72 West Lounge serves a bar menu nightly from 2 p.m. until midnight. The hotel has a fully equipped fitness center, a sauna and a spacious indoor heated pool.