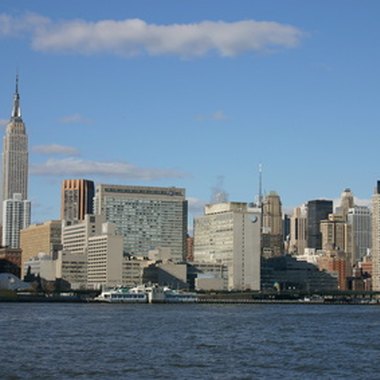 The Skyline Hotel is comprised of 231 guest rooms measuring from 150 to 500 square feet. Located in the once infamous Hell's Kitchen neighborhood in Midtown Manhattan, the hotel is walking distance to a variety of attractions, including the Times Square Theatre District, the Jacob Javitts Convention Center and the Intrepid Museum. In addition, the surrounding neighborhood is brimming with diverse restaurants, nightclubs and live entertainment venues.
Guest Rooms
Guests of the Skyline Hotel have their choice of five types of guest rooms. Twin Rooms measure 100 square feet and are outfitted with two twin beds, while 340-square-foot Superior Rooms feature two double-size beds. Measuring 410 square feet are the Deluxe Queen and Executive King rooms. Deluxe Queens come with two queen-size beds, while the Executive Kings boast both a king and queen-size bed, as well as a sitting area. Junior suites are also available. These accommodations feature two queen-size beds plus a small parlor separated from the sleeping area by French doors.
Event Facilities
The Skyline Hotel is able to host weddings, conferences and other special occasions in its two ballrooms. The Penthouse Ballroom measures 1,800 square feet. This room can accommodate up to 120 guests. In addition, its rooftop location provides guests with views of the New York skyline. The much larger Skyline Ballroom can accommodate up to 250 guests. This 2,800-square-foot space can be configured as a theatre, classroom or even a dining room with a dance floor. Catering is available in both halls through a special arrangement with neighboring 1050 Restaurant.
Amenities
The Skyline Hotel is far from luxurious and does not offer an abundance of guest amenities. In fact, the Skyline Hotel boasts just one restaurant that was only open for breakfast. In 2010, however, the hotel's website stated that plans for a new dining establishment were under way. Each guest room is equipped with basic hotel amenities, but services, such as wireless Internet access, must be purchased. A low-key fitness center is located on the penthouse level. The establishment does offer guests overnight valet parking at a price substantially discounted from the area's going rate. The most impressive amenity of the Skyline Hotel is its rooftop swimming pool. The heated indoor attraction is open year-round.
Getting There
Due to its centralized location in the heart of Manhattan, the Skyline Hotel is convenient from all points. The hotel is situation only seven blocks from the Lincoln Tunnel. The Port Authority Bus Terminal is also a few blocks away. In addition, the establishment is walking distance from many New York City subway lines.
References
Resources