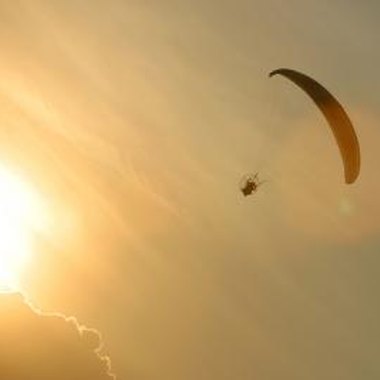 Located about 25 miles from downtown Dallas, Royse City, Texas, does not offer any skydiving opportunities directly within the city limits. However, prospective skydivers can find a couple of skydiving options about a 30-minute drive from Royse City. Additionally, there are a couple of other options in the area that might interest those looking for a gravity-centered thrill around Royse City.
Skydive Dallas
The most extensive skydiving experience in the Royce City area, Skydive Dallas (skydivedallas.com) offers opportunities to divers of all experience levels, from those looking for a first jump all the way through seasoned veterans. For beginners, the company offers tandem or solo first jumps, with an extensive preparation course beforehand. Experienced jumpers can choose to partake in one of Skydive Dallas' many events, including jump competitions and themed jump days. Skydive Dallas even hosts the only skydive coaching certification course in the state of Texas, for divers who want to teach others how to jump.
Soaring Adventures
A hot-air balloon company that features balloon rides and skydiving opportunities across the country, Soaring Adventures (800soaring.com) also offers skydiving in the Dallas area. With fewer options than Skydive Dallas, Soaring Adventures gives jumpers the chance to take part in tandem jumps, where each instructor attaches herself to the guest to ensure a safe jump. Soaring Adventures is a good choice for anybody who doesn't mind close attention from the company's staff.
Zero Gravity
A theme park that focuses on aerial thrills, Zero Gravity (gojump.com) offers some of the excitement of free-falling without the danger of skydiving. The park is located about a 30-minute drive from Royse City and operates five distinct thrill rides, including those that involve bungee-jumping, a skycoaster swing, and even a 14-story free-fall where each guest has no rope or restraint. The latter attraction, known at the park as "Nothin' but Net," allows each guest to feel the same weightlessness as skydiving for a much shorter drop. At the end of the fall, a giant safety net catches plummeting guests. In July 2011, tickets for each attraction cost about $33 a person, though there were discounts for multiple rides.
Dallas Rocks
An attraction where guests can experience the thrills of gravity in another sense, Dallas Rocks (dallasclimbing.com) is a large rock-climbing facility also located about half an hour from Royse City. Here, the idea is to move against the pull of gravity rather than with it. Guests can take lessons from certified rock-climbing trainers, host birthday parties or group meetings at the facility, and can even buy yearly passes that allows unlimited access to the facility over the course of a year. And, at the end of each climb, guests can expect a short free-fall to get back to solid ground.
Photo Credits
Hemera Technologies/AbleStock.com/Getty Images