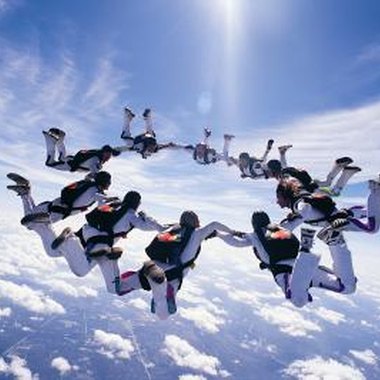 Skydiving is an exhilarating experience in which you jump out of a plane mid-air, free-fall for a period, then parachute slowly back down to Earth. The thrill of skydiving makes it one of the more exciting extreme sports out there. There are a number of options available for skydiving novices and experts alike in the Canadian province of Ontario.
Southwestern Ontario Organization of Parachutists (SWOOP)
Operating since 1979, Southwestern Ontario Organization of Parachutists (swoop.on.ca), also known as SWOOP, is a non-profit, member-run skydiving club that averages over 3,000 jumps a year. Located 40 minutes from downtown Toronto, jumps in the SWOOP drop-zone feature sweeping views of Hamilton, Lake Ontario, the Toronto skyline, the CN Tower and even Pennsylvania across Lake Erie. SWOOP has three aircraft and offers packages, including videographers, for jumpers ranging from first-timers to seasoned skydivers.
Niagara Skydive Centre
Located in Dunnville, Ontario, Niagara Skydive Centre (niagaraskydive.com) is the only full-time Ontario skydiving center operating seven days a week. It also houses the largest skydiving facility in Canada. First-time jumpers are offered the choice of a tandem jump, a solo jump with instructor-assisted deployment, or a progressive free-fall. Jumpers are treated to a view of Grand River.
Parachute School of Toronto Limited
The Parachute School of Toronto Limited (parachuteschool.com) is located 40 minutes north of Toronto at Baldwin Airport, and offers jumps throughout the year, even in the winter. With over 210,000 jumps, including 49,000 first-time jumps, the school boasts an experienced crew of trainers, pilots and safety personnel. First-time jumpers can be trained to make their first jump a solo or a tandem experience.
Skydive Toronto
Founded in 1972, Skydive Toronto (skydivetoronto.com) is the longest-running skydiving school in Canada, boasting over 250,000 successful jumps. Skydive Toronto is located 30 minutes north of Toronto, and caters to both first-time and experienced jumpers. They have also trained competition jumpers who have competed at several world skydiving championships for Canada.
Photo Credits
Digital Vision./Digital Vision/Getty Images