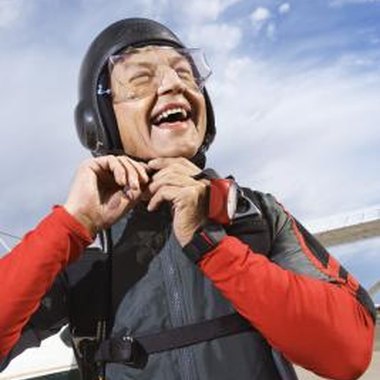 If you live in and around Winnipeg, Manitoba, there are several different skydiving operations ready to take you up into the Canadian sky and defeat the fear of heights or fall in love with extreme gravity. If you live in an outlying area, you likely will have to drive to Winnipeg to go skydiving, but according to the reviews, the effort is well worth it.
Adventure Skydiving
At the time of publication, Adventure Skydiving (339jump.com) has introduced novice parachutists to the skies for 10 years and given veteran jumpers some new tips, with courses resulting in International Standard USPA or Canadian licensing as a jumper. Based in Steinbach, Adventure Skydiving is open seven days a week through the summer except for one-week sessions held in Saskatoon and Thunder Bay.
Skydive Manitoba
If you live outside Winnipeg, Skydive Manitoba (skydivemanitoba.com) is a company that moves from airport to airport, bringing the activity to different parts of the province throughout the year. At the time of publication, stops have included Gimli and Brandon since the season began in June. The company offers a First Jump Course that certifies you to jump by yourself after your first tandem jump.
Adventure at Altitude
Adventure at Altitude (altitude.ca) offers hang gliding and flying boats in addition to tandem and solo skydiving. At the time of publication, Adventure at Altitude contracts with Adventure Skydiving to provide its skydiving services, but if you buy a hang gliding or ultralight ride, you get a discounted skydive as well.
Skydiving Camps
If you live in or around Winnipeg but want to skydive during the cold winter months, there are several camps that will transport you to locations such as Arizona for a skydiving camp. You can head south, out of the swirling white snow, and sharpen your skydiving skills in the sunny desert. The Manitoba Sport Parachute Association (mspa.mb.ca) recommends several camps, including John Moore's training class (members.shaw.ca/alef).
Photo Credits
Thinkstock Images/Comstock/Getty Images