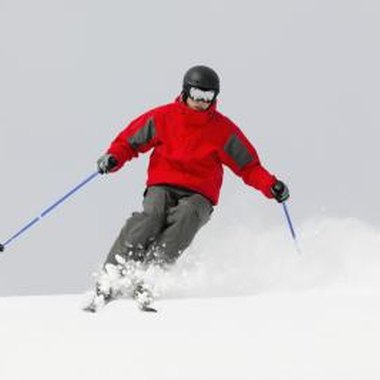 Skiers in Boston, Massachusetts, need travel only a short distance to find a suitable place to enjoy their sport. Many resorts, including Blue Hills Ski Area and Great Brook Ski Touring Center, lie within 30 minutes driving distance, providing convenient opportunities to enjoy downhill or cross-country skiing. Visitors can take advantage of the amenities on their own or through local organizations, such as the Boston Ski & Sports Club.
Downhill Skiing
Visiting the Nashoba Valley Ski Area (skinashoba.com) offers downhill skiing. Located in Westford, around 25 miles northwest of Boston, the resort has 17 ski trails ranging in difficulty from those suitable for beginners, to expert routes for more experienced skiers. The park operates nine ski lifts, with these ranging from rope tows to three-seat lifts. Options for using the facilities include half-day or full-day lift tickets, as well as season passes. Those new to the sport can take lessons at the resort, with private and group lessons available.
Cross-Country Skiing
The Great Brook Ski Touring Center (greatbrookski.com) offers visitors cross-country skiing. Located around 19 miles northwest of Boston, in Carlisle, the center typically operates from December to March. Skiers have the choice of over 10 miles of groomed trails ranging from easy to strenuous, with the trails prepared with two sets of tracks and a separate smooth skating lane. The park opens daily for skiing, and offers the chance to try lantern-lit night skiing on Tuesday and Thursday evenings. Skiers can bring their own equipment or rent from the center.
Adult Ski Clubs
Boston adults can enjoy organized skiing events through membership of the Boston Ski & Sports Club (bssc.com). The club schedules a variety of events during the ski season, at resorts in the Boston area and further afield. Members can enjoy the luxury of transportation to and from a resort, with events including ski days, weekends, and longer vacations. Members can also get involved in some fun ski racing, with an 8-week league letting skiers take part in timed runs as they compete for the BSSC Cup.
Children's Ski Camps
Children aged 7 to 16 can enjoy some skiing fun at the Blue Hills Ski Area (ski-bluehills.com) vacation camps. Located in Canton, around 12 miles south of Boston, the resort organizes 5 day ski camps for kids during December and February. These cater to all levels of skill, from beginner to advanced skiers. Children ski with a trained instructor for part of the day, as well as having free time to enjoy some unsupervised skiing fun.
Photo Credits
Jupiterimages/Comstock/Getty Images