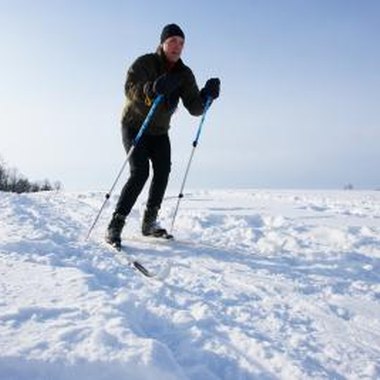 Black River Falls is only a few hours from major cities like Madison, Wisconsin, and Chicago, Illinois, and houses the Northwoods, an area highly coveted for its ski and recreation opportunities. The Wisconsin Department of Natural Resources maintains The Black River Falls State Park, which many people visit each year.
Where to Ski
Cross-country skiers can take advantage of more than 25 miles of trail at Black River State Forest that runs between the north end of Shale Road and the County line in the south. These trails are organized by skill level: one trail is designated as easy, and three of the trails are labeled as intermediate and expert. One ski resort, the Bruce Mound Winter Sports Area in nearby Clark County, has a lift available for downhill skiers.
When to Ski
The ski season typically begins in mid-December. Visit the Wisconsin Department of Natural Resources website to check when the ski trails are open for the season and ski conditions. Visitors are allowed to ski when conditions are fair to excellent, but they are encouraged to only ski when the conditions are good to excellent.
Ski Event
Each New Year's day, if conditions permit, the free Candlelight Ski event takes place at Black River Falls and other Wisconsin state parks. Visitors have the opportunity to cross-country ski on trails lit by hundreds of candles or tiki torches. In addition to celebrating the New Year, the candles give the event a romantic feel -- making it a popular getaway for couples.
Other Activities
The Bruce Mound resort offers eight runs for snowtubing and a snowboarding terrain park. Outside of ski-related activities, scuba diving is available year round at Wazee Lake in Black River Falls State Park, hiking, hunting, fishing, horse riding and canoeing. ATV and mountain bike trails are also available during their respective seasons.
Photo Credits
Jupiterimages/Photos.com/Getty Images