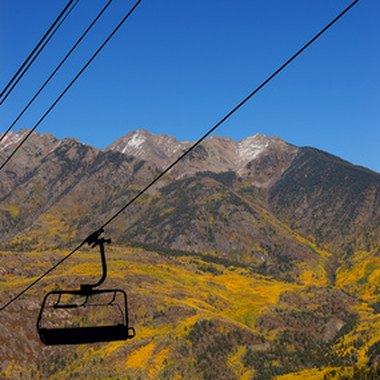 Thinking of Arizona does not immediately bring to mind snow, cold or skiing. But snow season and skiers are a large part of the allure and economy of several Arizona cities, including Flagstaff. The Arizona Snowbowl ski resort, 14 miles northwest of Flagstaff, and the Flagstaff Nordic Center, 16 miles north of the city, provide both winter and summer activities. Nearby are several types of accommodations, ranging from resort to rustic.
Arizona Snowbowl Ski Resort
Snowbowl provides downhill skiing from 11,500 feet up the San Francisco Peaks. Four ski lifts and two lodges service 32 trails. The ski resort's Sunset Terrain Park, for skiers and snowboarders, adds terrain features as the snow falls and includes a progression section for beginners. Tubing and sledding are available at the Wing Mountain Snow Play Area, a short drive beyond Snowbowl Road.From Memorial Day through mid-October, you can ride the main ski lift to the top of Mt. Agassiz. The view stretches for 70 miles around and encompasses the Grand Canyon in the distance. You may find several inches of snow in October. Below the summit of Humphreys Peak, you can play disc golf, and hiking opportunities on the Peaks abound.
Flagstaff Nordic Center
Enjoy cross-country or skate skiing across 25 miles of trails at the Flagstaff Nordic Center. Snowshoe trails are also available. The center offers full-moon skiing during the winter months, as well as snowshoe races and cross-country ski races. No sledding hills are available on Nordic Center grounds, but Crowley Pit, a Forest Service site a mile past the center, does have hills of varying size. When ski season is over, the center offers summer getaways and venue services for weddings, parties or business events.
Resort Accommodations
In Flagstaff proper, the Little America Hotel offers multi-level luxury suites, apartment suites, and fireplace suites, all with floor-to-ceiling windows or arcadia doors. Four two-story lodges contain King Suites and rooms with two queen-size beds. Wyndham Vacation Resorts, Flagstaff, is a timeshare and vacation rental property. It offers one-bedroom side-by-side or over-under townhouses, as well as two-bedroom loft and tri-level townhouses. All rooms feature Jacuzzi tubs and arcadia doors leading to decks, with the loft and tri-levels adding gas fireplaces.
Rustic Accommodations
The Ski Lift Lodge & Cabins are the closest accommodations to Snowbowl, seven miles from both Flagstaff and the ski resort. Basic rooms have a bathtub, while cabin-style rooms include small gas fireplaces, stand-up showers and front porches. All rooms sleep four, and the only other amenities are a television and alarm clock. The Nordic Center has three lodging options and allows pets with prior permission. The Eco-Hideaway, located seven miles into an unplowed U.S. Forest Service road, is unavailable during winter months. Between March and December, though, you'll find a "green," "off-grid," fully self-contained, three-bedroom cabin on an 8-acre property bordered by national forest. The Ponderosa Room, on the second level of the Nordic Center, is available only during wedding season. The room sleeps four, on a futon and sofa-sleeper, but you must bring your own bedding. The rustic Aspen Yurt is available for individual rental during the winter season and for special events the rest of the year. Bring your own bedding for the two futon-style double beds. Solar or generator-powered lighting is available, but no electrical outlets. The yurt has a wood-burning stove for heat, but no running water – you'll find firewood and 5 gallons of water upon your arrival. With the parking area a mile away, you'll need to hike, bike, ski or snowshoe to the yurt and carry in your supplies.