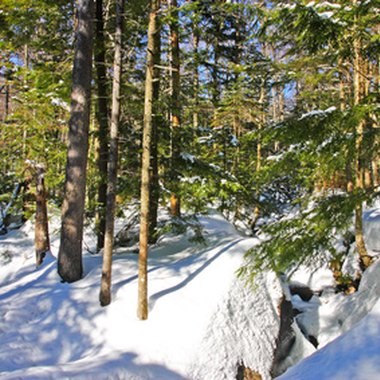 New Hampshire's history of resort lodging dates back to the late 19th century, when it had more lodges than anywhere else in America. Most were summer resorts, but when members of the Dartmouth College outing club and members of the Boston-based Appalachian Mountain Club began singing the praises of winter sports, resort owners saw the potential profit and opened their businesses for the winter season. New Hampshire now has ski lodging options for all tastes and budgets. (History refs: http://www.nhhistory.org/popresorts.html http://www.skimuseum.org/NH%20and%20American%20Ski%20Industry.pdf)
Choosing a Location
A ski-in/ski-out hotel, like the Attitash Grand Summit Hotel, is more convenient, but more expensive, than staying in town, even with the hotel's discounted ski and stay packages. If you plan to visit more than one mountain, consider a centrally located hotel. The Lodge at Jackson Village is 10 minutes from Attitash and 10 minutes from Wildcat. Breakfast is included in your room rate. The quaint shops, galleries and restaurants populating the town of Jackson will please your non-skiing companions.
Hotels vs Bed and Breakfasts
New Hampshire ski areas are located near hotels, bed and breakfasts, and vacation rentals. Hotel amenities vary. Some, such as the Best Western Silver Fox Inn in Waterville Valley, include breakfast and late afternoon refreshments in their rates. The Marriott Residence Inn in North Conway includes a breakfast buffet. Breakfast food at hotels is often generic. Gourmands will prefer bed and breakfasts. Choices at the Rosewood Country Inn, near the Mount Sunapee and the Pats Peak Ski area, may include a tomato-basil egg souffle, Eggs Florentine, or various pancake and French toast variations.
Vacation Rentals
At a vacation rental, you are essentially renting someone's home for your ski vacation. It may be either a full house, or a condominium. Amenities such as coffee and daily housekeeping may be available on a case-specific basis. Many vacation rentals have more than one bedroom, and all have functional kitchens. This type of lodging is most economical for large groups. The units at the Nordic Inn, near Loon and Cannon Mountain, can accommodate up to eight people. There's a free shuttle to Loon Mountain, and ski and stay packages are available.
Best for Kids
New Hampshire's ski towns have a doll-house quality that appeals to children, but some hotels and resorts are more kid-friendly than others. Some family hotels offer Polar Express packages in late November and early December. The Polar Express is a train ride based on the book by the same name. Guests enjoy cookies and milk while the narrator tells the story. Santa enters the train when you reach the "North Pole," and each guest receives a gift. The Red Jacket Mountain View Resort in North Conway offers Polar Express packages, with some other interesting perks. The resort has a year-round, indoor water park, which features a water slide and a wave pool. These features are not just a diversion from skiing. They may even help your child learn to ski. A water slide lets children experience, and surrender to the gliding sensation, which is crucial to fluid skiing. Jumping the simulated waves in a wave pool requires skills similar to mogul skiing.
The Grand Hotels
New Hampshire's grand mountain lodges entice skiers to ski in the lap of luxury, and get pampered when they come in from the cold. The Omni Mount Washington Hotel, located in Bretton Woods, is a designated national historic landmark. It opened in 1902 and underwent a $60 million renovation in 2009. The hotel is situated on a 1,900-acre estate and has a full-service spa and AAA four-diamond fine-dining restaurant. While alpine skiers and snowboarders play in Bretton Woods, Nordic skiers use the 100-km trail, locate on the Omni Mount Washington resort grounds. The hotel's Ski Free Modified American Plan package includes breakfast, dinner, lift tickets and a backpack for the kids.
Photo Credits
Franconia Notch, New Hampshire image by Chee-Onn Leong from Fotolia.com