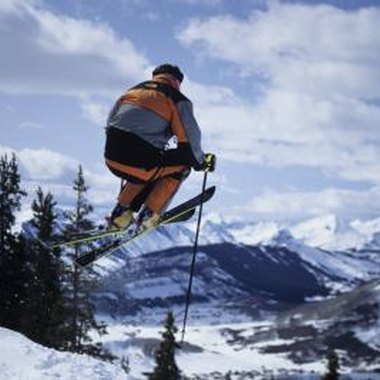 Winter in Aspen conjures expensive images of the rich and famous enjoying Colorado's powder and perfectly groomed runs. In truth, Aspen is a small mountain town with a rich history in mining and while luxury is found in Aspen, affordable accommodations and winter activities are available too. At the heart of Aspen lies adventure and an old school ski community vibe, and Aspen ski lodges follow in kind.
Hearthstone House
Hearthstone House is a Frank Lloyd Wright-inspired lodge that is conveniently located two blocks from the center of Aspen's downtown area and one block from the free ski shuttle. Interior furnishings continue on in arts and craftsmen vein with simple decorative forms and fixtures. While the Hearthstone House is a small lodge, guest amenities are on par with a much larger, full-service hotel, such as an on-site concierge, complimentary breakfast, afternoon wine and cheese reception, outdoor Jacuzzi, and indoor herbal sauna. Hearthstone has partnered with exclusive Aspen Club & Spa to provide lodge guests discounts on daily fees. "Snowboarder Magazine" gave kudos to the Hearthstone House for delivering the best mattress, pillow and free wine and cheese.
Snow Queen Lodge
Snow Queen Lodge features bed and breakfast-style lodging in a historic Victorian home. Guests may know proprietor David Ledingham from television. He played Suede Pruitt on the soap opera "One Life to Live" and starred in an episode of "Law & Order" in 2006. Lodge rooms vary and some share a bath. Their Cooper street loft rooms offer space for larger groups and families. Apartment-style features include a full kitchen, wood-burning fireplace, washer and dryer, private deck and a view of Aspen Mountain.
Mountain House Lodge
Located in downtown Aspen, the Mountain House Lodge offers affordable lodging. Originally the Lodge was a bunk house offering beds at $3 per night. In the '90s, it evolved into its current configuration and gained popularity as an inexpensive place for the family to enjoy Aspen. Rooms are comfortable and breakfast is free. Also, during winter months, the Lodge hosts a traditional après ski wine and cheese reception throughout the week. Guests store ski and snowboard equipment on-site and concierge services assist you with planning your stay.
Tyrolean Lodge
Located on Main Street in Aspen, the Tyrolean bills itself as the most affordable lodging in the town. Lou Wille built the Lodge in 1970 and his son Pierre is currently the Lodge's proprietor. Sixteen rooms offer skiers and snowboarders an intimate winter holiday experience. The chrome eagle that grace's the Lodge's chimney was made of car bumpers and sculpted by the original Wille. Rooms are spacious, feature vintage ski décor and are non-smoking.
Photo Credits
Karl Weatherly/Photodisc/Getty Images