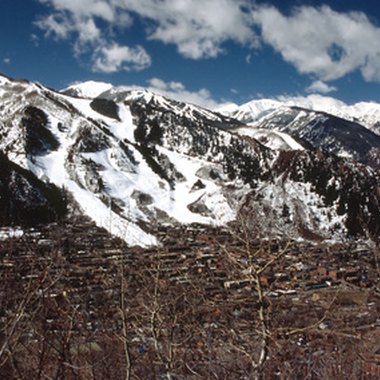 Colorado is arguably the most popular ski destination in the U.S. In a 2008 publication, the prestigious Conde Nast Traveler rated the top 20 ski resorts in North America, of which nine were in Colorado. While ski opportunities exist throughout the state, some towns serve as tourism epicenters complete with premium skiing and accommodations. Whether a beginning skier looking for the bunny slopes or an experienced professional, Colorado's ski areas and resorts have something for everyone.
Aspen
The City of Aspen is in the Elk Mountain Range, where four large ski mountains surround the city offering ski options for beginners and pros alike. The St. Regis Aspen Resort is located in the heart of town near both the popular shopping area of Aspen and the recreational slopes surrounding the city. The resort offers ski packages that include ski lift tickets, dining credits and discounts on equipment in the resort's ski shop. Concierge staff is available to arrange private ski lessons, transportation or dinner reservations. The St. Regis is also next door to an ice skating rink, and guests can also take up a variety of other winter activities nearby including snowmobiling, dog sledding and fly fishing.
Crested Butte
Located away from the hustle and bustle of more urban areas of the state, Crested Butte is a national historic district located at the base of Mt. Crested Butte. Known by many as "Colorado's Last Great Ski Town," the small town becomes a tourist destination for skiers during the winter months. Guests to the area can stay at the Elevation Hotel and Spa for ski-in/ski-out accommodations a few steps away from the ski lift. The hotel offers ski valet service, a heated indoor swimming pool and a concierge. Skiers can also take advantage of ski equipment storage, as well as a snowboard and ski shop on the hotel's property. After a long day on the slopes, hotel patrons can dine fireside or relax with a massage in the hotel spa.
Steamboat Springs
Steamboat Springs is a quaint Colorado town with a lot to offer skiers. Several trails wind through the area, including 15 kilometers of trails for at the Steamboat Ski Touring Center. Other winter activities include ice climbing, snow-biking, sleigh-riding, snowshoeing, sledding and snow tubing. The Sheraton Steamboat Resort is in the middle of the action just steps away from Mt. Werner, welcoming winter travelers to "Ski Town USA" with hospitable service and a location in walking distance of the chairlifts. Guests can expect access to valet, concierge, floral and laundry services, as well as a children's program. Additionally, seven hot tubs are located rooftop for relaxation with a panoramic view. Dining is available on the property, and pets are welcome.
Vail
More than seven miles of snowy mountain front await winter travelers in Vail, Colorado. Mountain tours are available daily in the town, as are child, teen and adult ski lessons. Adding to the town's allure, the Vail Village is a pedestrian area with heated walkways, cobblestone streets and numerous shops and restaurants. Tivoli Lodge has the ambiance of a traditional mountain lodge with the amenities of an upscale resort. Located in Vail Village, Tivoli is walking distance from ski lifts and offers valet ski equipment services. Guests are treated to a complimentary daily breakfast and free local transportation. Children under 12 stay free at Tivoli.
Photo Credits
aspen mountain image by Mike & Valerie Miller from Fotolia.com