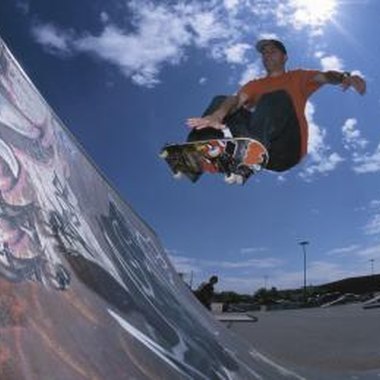 Skateboarders are always looking for the next trick to impress their competitors. If you are just learning how to skate and want to add a jaw-dropping trick to your arsenal, you can quickly learn how to wallride; though it may look difficult, it is actually easy to perform. With this trick, you can transition from a ramp and up onto a vertical wall before turning back down. Even for those unfamiliar with the trick, performing the wallride can be accomplished with just a few hours of practice.
Step

1
Build momentum on your skateboard, and approach the ramp and wall at a medium-to-high speed.
Step

2
Position your back foot on the tail of the board as you climb the ramp while keeping your front foot on top of the front trucks of the board.
Step

3
Press firmly down onto the tail of the board to push the nose up into the air; guide the nose of the board onto the wall evenly with your front foot.
Step

4
Guide the tail of the board onto the wall with your back foot, and press your weight onto the wall.
Step

5
Turn your body back down towards the ramp and allow gravity to pull you and the board down. Make sure that you aim the nose of the board back down toward the ramp.
Step

6
Bend your knees slightly to absorb the impact of your landing, and keep your weight distributed evenly between your front and back feet to land cleanly.
References
"Street Skateboarding: Endless Grinds and Slides: An Instructional Look at Curb Tricks"; Evan Goodfellow and Doug Werner; 2005
Photo Credits
Hemera Technologies/AbleStock.com/Getty Images