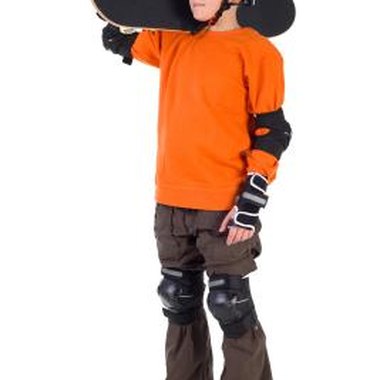 McKinney, Texas is located in the northeastern part of the state and is the county seat of Collin County. The area is home to a variety of skateboarding parks and stores that sell merchandise and apparel to local skaters. Locations also offer lessons and opportunities to celebrate a birthday party.
Vertigo Skate Shop
Vertigo Skate Shop (vertigoskateshop.com) is located in Plano, which is just 15 miles from McKinney. The store sells a variety of skateboarding equipment and merchandise, including boards, clothing, bags and shoes. Skateboarding lessons are also available and provide skaters with one-on-one lessons to help improve his or her skills. An indoor halfpipe is also located on the premises. The halfpipe is where lessons are taught and competitions are held.
Eisenbergs Skatepark
Also located in Plano, Eisenbergs Skatepark (eisenbergs.com) was established in 1997 and is open to both beginner and advanced skateboarders. The skate park is 30,000 square feet and offers skating camps, programs and other events. Party packages are available at the skate park and include skate time, rental discounts, refreshments and group lessons. A retail shop, concessions stand and arcade are also located on site.
Proper Longboards
Proper Longboards (properlongboards.com) is located about 20 miles from McKinney in Richardson. The store custom makes skateboards and apparel for its customers. All skateboards are made of Canadian maple and hand-shaped in California before receiving a silk screen finish at the store location. Opportunities are available to purchase longboards at the store or through their website. As of publication, the cost of a longboard is $95.
Skatebus Skateshop
The Skatebus Skateshop (skatebus.blogspot.com) is located in Frisco, which is less than 20 miles from McKinney. The store specializes in selling skateboard merchandise, including boards, trucks, wheels, bearings and other pieces of hardware. Customers can also purchase clothing and apparel, including clothing, shoes, hats and stickers. The store was recently remodeled in February 2011.
Photo Credits
Jupiterimages/Photos.com/Getty Images