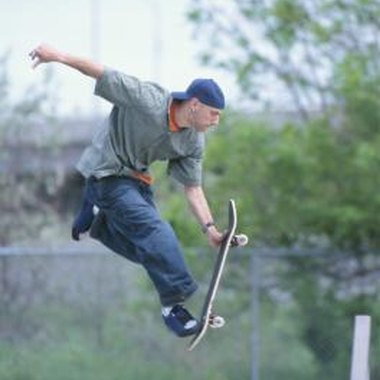 Skateboarding was developed in California during the 1950s as an alternative to surfing and was commonly known as "sidewalk surfing." By 1965, international skateboarding championships were being broadcast on television. There are many skateboarding shops and parks in Arkansas, and some areas of the state have laws and regulations pertaining to skateboarding.
Skateboarding Laws
At the time of this article's publication, Arkansas has no state or local laws requiring skateboarders to wear any safety equipment. Many localities in Arkansas have specific regulations regarding where skateboarding may take place, sometimes limiting it to sidewalks or other pedestrian areas, and when it may take place, often between sunrise and sunset.
Skateboarding Parks
According to Concrete Disciples, there are 34 currently open and operating skate parks in Arkansas. Many of these parks are public and city owned and operated (such as the Jonesboro and Trumann City skate parks), while a few (such as each of Skatezone's locations in Fort Smith, Gentry and Jacksonville, and the Tech Deck Xtreme Skatepark in Bentonville) are privately owned and charge access fees. These parks vary between offering concrete- or wood-constructed trick platforms.
Skateboarding Shops
Skateboarding shops vary from those that supply skateboarding clothing, accessories and supplies to those that sell boards. According to AXS Longboard Data Farm, Arkansas is home to 13 skate shops, many of which supply longboard and shortboard needs. Larger cities, such as Little Rock and Juneau, often have more than one skate shop within city limits.
Skateboard Competitions
Several skateboarding competitions are held in Arkansas, generally as part of other festivals or annually by skate parks. One such festival that hosts a skateboard competition is the Crawdad Days Festival in downtown Harrison, which occurs annually in May and also provides food, music entertainment and competitions in other sports; other festivals include Sparks in the Park, in Bentan, and Railjam, held in Conway. Parks that hold competitions include Grind House Skate Park and the Tech Deck Xtreme Skatepark.
Photo Credits
Hemera Technologies/AbleStock.com/Getty Images