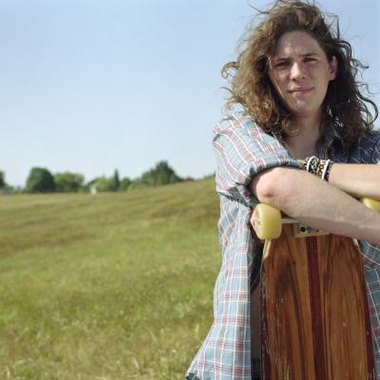 Long boards are really just longer versions of a skateboard, typically ranging in size from 24 inches to 80 inches long. The long board's weight gives it more momentum, and the wide wheel base enables it to cruise along the street or a sidewalk. When choosing a long board, the appropriate length depends on how it will be used, such as for racing or daily transportation. Deciding what the long board will be used for allows you to narrow your choices to a range of lengths. Significant factors in choosing a long board skateboard will be the user's height and level of skateboarding experience, since these affect the ability to control the board.
Boards 24 to 34 Inches
These boards, also known as slalom skateboards, are most common among skateboarders who compete in road races. The boards are typically made with carbon fiber to produce a lightweight, sturdy product. Because they are the shortest type of long boards, the height of the rider is less important in choosing the proper board than the kind of slalom events in which the rider will participate. The shorter boards in this category are for courses with tighter turns, while boards closer to 34 inches long offer a smooth ride on long, downhill courses where the turns and corners are wide.
Boards 38 to 43 Inches
The long boards of this type are downhill skateboards used for riding down mountain roads as fast as possible. The fiberglass body is extra-light, stiff and narrow and has just enough weight to build the most momentum on a downhill slope. Many of these boards also have a shaped tail and poly-bicarbonate nose and tail guards to make them more aerodynamic. Riders who weigh less than 100 pounds should choose the shorter versions in this category, and those weigh 150 to 200 pounds should choose the longest offerings.
Boards 42 to 45 Inches
Trick boards measure 42 to 45 inches and are designed for the extremely skilled long board rider. These boards are shaped like normal skateboards, but are substantially longer and heavier. The weight comes from the fact that they're made from solid wood, such as birdseye maple or Zebrawood. These boards are typically used in skate parks or to travel short distances.
Boards 60 to 80 Inches
These long boards, typically called cruisers, are the most common type of long boards. Their extra-long deck and short nose design was inspired by surfboards, and they are built for comfort and a smooth ride. Therefore, these boards are best for transportation over longer distances; they're excellent for getting around a large campus, for instance. Many of these boards are quite stylish because they're made from woods such as oak and mahogany. When choosing this style of long board, select one that is the closest to your own height in order to achieve the best weight distribution and control of the board.
References
Photo Credits
Ryan McVay/Valueline/Getty Images