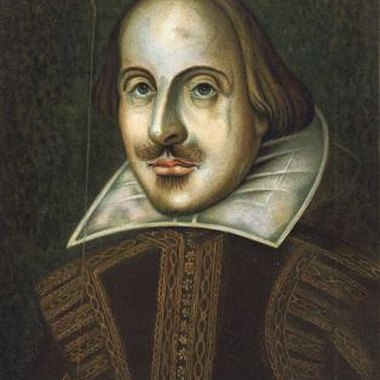 William Shakespeare is widely recognized as a great writer. He composed 37 plays, 154 sonnets and five longer-form works of poetry, "Venus and Adonis," "Lucrece," "A Lover's Complaint," "The Passionate Pilgrim" and "The Phoenix and the Turtle." His writings continue to be read across the globe and his plays are constantly being produced in theaters as well as adapted for the screen.
April 23
The exact day of Shakespeare's birth is not certain, but there is a general acceptance of April 23, 1564, as his date of birth. He was born in the town of Stratford-upon-Avon, which lies in the county of Warwickshire in the West Midlands region of England. He died on April 23, 1616, practically 52 years later to the day, in Stratford-upon-Avon.
Tragedies
Shakespeare is most famous for a number of plays he wrote that are part of his collection of tragedies. These include "Hamlet," "Romeo and Juliet," "Macbeth," "Othello," "King Lear" and "Julius Caesar." "Hamlet" is arguably the most famous play ever written. "Romeo and Juliet" has come to be synonymous with the love story. All six of these plays have become films and they continue to run in theater productions around the world.
Identity Crisis
Shakespeare's status as a writer is so legendary that his life has become the stuff of legend as well. There has been a considerable amount of inquiry and speculation into the actual identity of the man who wrote the plays. The most substantial of these is the theory that Christopher Marlowe is the man who actually wrote the plays attributed to William Shakespeare. The most intriguing element of this theory is that Marlowe faked his own death, and then composed Shakespeare's famous plays working as the definitive "ghost writer." The majority of Shakespearean scholars discounts these theories and accept that the man born as William Shakespeare in Stratford-upon-Avon is the same man who wrote the plays.
The Globe Theatre
Shakespeare was a member of a theater troupe called The Lord Chamberlain's Men. Shakespeare's participation in the group was not limited to writing plays. He was also an actor. In 1598, the group decided to build a playhouse where it could perform. Shakespeare would own a stake in what would become the famed Globe Theatre. The Globe Theatre is the most famous of all the Elizabethan theaters primarily due to its association with William Shakespeare.
Photo Credits
Photos.com/Photos.com/Getty Images