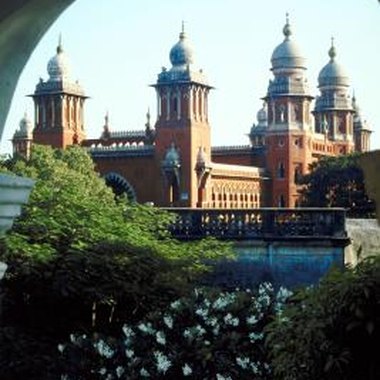 Tamil Nadu is a region of India with a history dating back thousands of years. Situated on the southern tip of the country, it is a place where Indian culture and traditions have blended with the modern era. Tamil Nadu has dozens of beach resorts, ancient Hindu temples and several UNESCO World Heritage Sites, which make it a point of interest for travelers.
Thread Garden
With a breathtaking array of flowers, plants and cultivated lawns, the Thread Garden focuses on a self-invented technology called four dimensional hand-wound embroidery, created by Executive Director and Designer Antony Joseph and his helpers. Everything is entirely man-made, but the realism of the technique creates a surprisingly life-like display. Located in Ooty across from the Boat House on North Lake Road, the Thread Garden is a modern marvel of epic proportions, and of special interest to art lovers.
Santhome Cathedral Basilica
The Santhome Cathedral is believed to have originated sometime in the 6th century and reconstructed over the years by the Portuguese and eventually the British. This neo-Gothic marvel towers over the surrounding landscape near Marina Beach in the city of Chennai. The church that stands today is the Roman Catholic version and acts as a pilgrimage center for Christians entering India. It stands alongside the Kapaleeshwarar Temple as a testament to the many different religious groups that are present in India.
Tirumalai Nayak Palace
An Indo-Saracenic palace named after the ruler who helped restore its ancient glory in 1636, the Tirumalai Nayak Palace is a fusion of Islamic and European styles. The current state of the palace is somewhat reduced from its former glory when it was several times larger than it is today, it is still considered a national monument and protected by the Tamil Nadu Archaeological Department. From the sprawling Celestial Pavilion to the Dance Hall and beyond, this is one of the best places to see the majesty of the Nayak rulers at their height.
The Meenakshi Temple
A temple dedicated to the fish-eyed, triple-breasted goddess Meenakshi Amman, a consort of Shiva himself, the Meenakshi Temple is one of the marvels of South Indian architecture. From the 12 different Gopurams, or towers, to the numerous carvings of gods, goddesses, demons and heroes of Indian religion and culture, the temple is at the heart of the city of Madurai. Built over a period of time between the 16th and 18th centuries by the Nayaks, the temple is one of the major holy places for the Tamil people.
Photo Credits
Jupiterimages/Photos.com/Getty Images