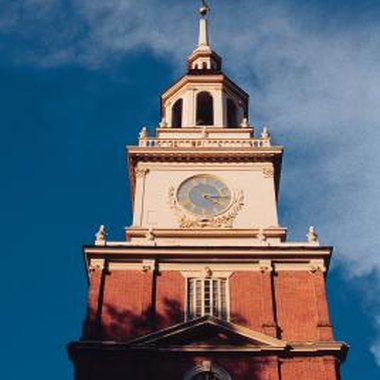 William Penn chartered the city of Philadelphia in 1682, making it one of the nation's oldest cities. Philadelphia served as the nation's first capital, and played an important role in the Revolutionary War. Today, Philadelphia is the fifth-largest population center in the United States and offers an abundance of cultural and historical venues for sightseeing.
Independence Mall
Independence Mall provides a number of attractions. During the Revolutionary War, the founding fathers convened the Constitutional Convention in Independence Hall, where they also signed the Declaration of Independence in 1776. The cracked Liberty Bell sits in its own mini-museum across the street under a glass enclosure, and further across an expanse of grass--used for ceremonies and rallies--is the National Constitution Center. Along with special exhibits, this newer museum devotes itself to preserving the legacy of the U.S. Constitution. In 2010, Philadelphia welcomed the addition of the National Museum of American Jewish History, housed a few blocks from the Independence Mall.
Philadelphia Museum of Art
The Philadelphia Museum of Art houses an impressive collection from a number of periods and genres. A number of Renoirs, including his huge "Bathers" series, dot the European art wing. The museum also offers an entire wing devoted to American furniture from colonial times to the 20th-century. The museum hosts special exhibits in its Perelman galleries across the street from the main building. The Barnes Foundation collection, slated to open in late 2011 or shortly thereafter, contains the largest trove of Impressionist works outside of Paris. Fans of Sylvester Stallone's Rocky Balboa will find the fictional pugilist's statue on the front steps of the museum, where he ended his famous training run.
The Italian Market
Italian immigrants initially formed the bulk of South Philadelphia's residents. Over time, these denizens built up a European-style open-air market in the area stretching from Eighth to 11th streets and between Christian and Washington. These stalls and shops originally sold fish, produce, meats and cheeses to locals and restaurants city-wide. As the demographics of the neighborhood have changed, the wares have evolved to include Mexican and Southeast Asian delights as well. If you've never had an authentic Philly cheesesteak, you'll find plenty of vendors here, including Pat's and Geno's, a pair of 24-hour establishments devoted to Philadelphia's most famous culinary contribution.
Old City
The first residents of Philadelphia settled in an area between Arch and Pine and Front and Sixth streets now referred to as the Old City. Here, the founding fathers walked along the cobblestone streets and drank at local pubs not too far removed from the dozens of eating and drinking establishments that dot the area. Stroll down to Front Street to see Penn's Landing, the waterfront area along the Delaware River. Guided walking tours are available. The nearby Independence Seaport Museum showcases the history of nautical travel in early America and into the 20th-century.
Photo Credits
Comstock/Comstock/Getty Images