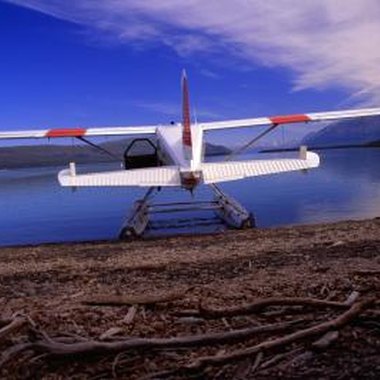 Airplanes have seen huge advances over the past century, with modern airplanes that offer comfort, economy, and reliability. Many people choose to fly in order to get to a destination. For those who are looking to fly as an experience in itself, commercial airplanes often won't cut it. Many small companies and flight schools in Massachusetts offer tours, instruction and rentals that allow for a more intimate sight-seeing experience.
Sights
A number of Massachusetts aviation companies and schools offer private tours where guests can choose what sights they want to see. East Coast Aero Club (eastcoastaeroclub.com) is one example. It features opportunities for guests to take airplane tours of Boston, New York City and the Massachusetts countryside in the fall. North Andover Flight Academy (northandoverflightacademy.com) also offers airplane charters that take guests all over New England. For each charter, a twin engine airplane and its entire crew are available, which may be ideal for larger groups.
Photography
If you're looking to take photos or to capture film footage from on high, some Massachusetts flight schools and charter companies offer photography tours. East Coast Aero Club offers this service as well, customizing the tour for the shots that the photographer wants to get. Besides airplane photography tours, other Boston companies offer aerial photography opportunities using a different method of transportation. Blue Hill Helicopters (bluehillhelicopters.com) is one example. Located in Norwood, Blue Hill offers helicopter rides to wherever a photographer might want to go, and satisfaction is guaranteed.
Instruction
For any person who would prefer to pilot the airplane himself, Massachusetts also delivers. Many small aircraft companies offer training classes and instructional courses that provide knowledge in addition to the sights. Among Massachusetts' flight schools is Horizon Aviation (horizonaviation.com). Located in Norwood, Horizon offers recreational, business or career-oriented classes. The school features a flight simulator and six actual airplanes for training.
Rentals
For those already certified to pilot an airplane, certain locations also offer airplane rentals for the ultimate freedom in sightseeing. Northampton Airport (northamptonairport.com) is one such location. This airport and flight school offers a rental fleet of nine different planes, with prices as low as $100 an hour including fuel. Most planes seat four or fewer passengers, making these rentals perfect for small groups or couples.
Photo Credits
Jupiterimages/liquidlibrary/Getty Images