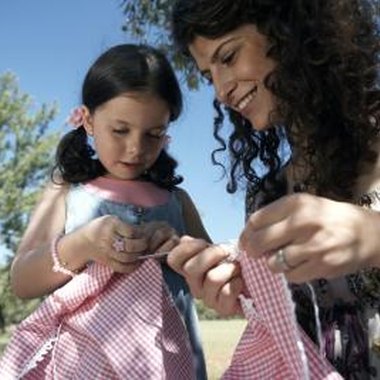 Adding a crocheted edging to your craft project is a great way to finish off raw edges with a long-lasting decorative piece. A simple side-to-side edging using single crochet stitches can be finished quickly and with minimal crocheting experience. If desired, a more complex edging can be created using a combination of stitches in a shell pattern, a picot stitching created with a series of chain stitches, or a type of fringe, such as pigtails or tassels.
Basic Single Crochet Edging
A basic single crochet stitch can be used to create a simple side-to-side edging on any blanket project. If adding a crocheted edge to a fabric blanket, use a lighter weight yarn and smaller sized crochet hook that can poke through the fabric easily. Larger hooks will not penetrate the fabric. Simply work a row of single crochet stitches across the fabric; then chain one stitch at the end of the row, turn and single crochet across again. Repeat this until the crocheted edge band is the desired width; then fasten off and weave in the ends.
Shell Crochet Edging
A shell is created when a series of crochet stitches are worked in the same space, fanning out into a rounded shape. This is often done with a series of double or triple crochet stitches. To add shell edging to a piece, work a row of single crochet as a base, then chain one, turn your work, skip three stitches and work five double crochets in the next stitch. This will make a shell shape. Chain one and repeat all the way across. This will make a scalloped edge on your project.
Picot Crochet Edging
Picot stitching creates a small "bump" of yarn, repeated along the edge of your project. This creates a look similar to crocheted lace and is seen frequently in pillow case edging. To work a picot edge, single crochet across to create your stitch base, then turn and chain three or five stitches. More stitches creates a larger loop. Single crochet into the next stitch; then chain again. Repeat across to finish the edge; then fasten off.
Crocheted Fringe
Fringe can be created in a variety of ways through crochet. Always start with a single crochet row across to create a base for your stitches. To add a simple tasseled fringe, chain eight stitches, then slip stitch your way down the chain back to the base and single crochet into the next stitch. Repeat across to finish the fringe edge. To do a swirly "pig tail" fringe, chain 12 stitches, slip stitch in the first chain from the hook, then work three single crochets in each of the next 11 stitches. This will cause the chain to curl. Single crochet into the next stitch of the edging and repeat the pattern across.
Photo Credits
Maria Teijeiro/Lifesize/Getty Images