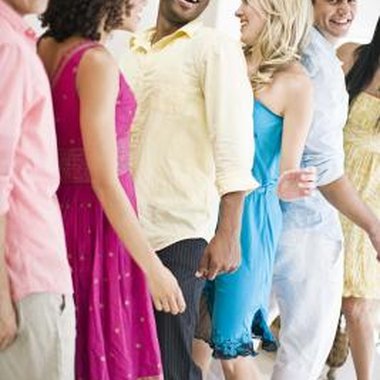 Social networking has simplified the coordination of class reunions. Making a page on a network website is normally free and easy. Include certain topics to evoke memories and stimulate discussion. A good reunion page can reestablish connections to minimize awkwardness during the celebration, set the tone, and engage classmates before the big party starts.
Interactive Page
Begin conversations on the page about memories. Post random questions to encourage sharing. Offer surveys in which users can vote, with "prizes" for those remembered as the class clown or the teacher's pet. Create a trivia game from the stories shared to play at the reunion. As conversations continue, keep looking for missing classmates. Ask others for locations or addresses. Invite rediscovered friends to join the page. Provide contact information for the organizers. Inquire what people want at the reunion, such as posing for group shots, perhaps of the football team or the drama club.
Event Planning
As the creator of the page, ask for input concerning the location and date of the reunion. Common times for reunions are around homecoming, during summer break, or at the close of the school year. Some classes hold reunions at the school itself, in the auditorium or gymnasium. Other classes rent wineries, banquet halls, or restaurant space. Inquire what classmates are willing to spend on food and entertainment, which will dictate the reunion's location and duration.
Specifics
As the event draws near, post information about the reunion. List the price and address for advanced payment. Ask for physical addresses to mail out tickets. Announce menu possibilities and later provide the finalized version. Provide lodging suggestions. Start a carpooling thread so classmates can discover where everyone lives and perhaps ride together. Find people willing to scan pictures for coordinators to assemble a slide show. Assemble names of deceased classmates for a moment of recognition. Finally, ask everyone to contribute information about their families, jobs and education to put in a pamphlet.
Wrap-Up
Host a discussion after the class reunion to provide a conclusion for classmates. Thank everyone for attending. Specifically mention those who brought supplies or helped with decoration and tear-down. Ask friends to comment on the food and venue for consideration for future gatherings. Upload pictures from the reunion to the page; perhaps add them to a picture-hosting site and post the link for those who want prints. Finally, ask classmates to return to the page and keep everyone updated on momentous life changes.
Photo Credits
Jupiterimages/Brand X Pictures/Getty Images