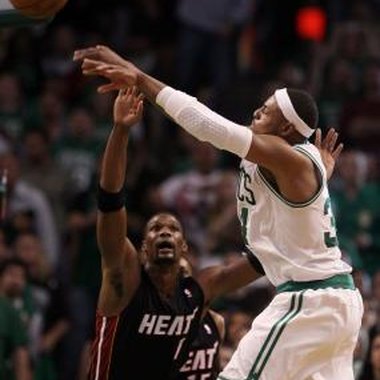 The NBA 2K franchise has been the top-selling NBA game for the last two years. In the 2011 version, players can customize their gaming experience down to the smallest details of play and graphics. One fun way to customize your gameplay experience is to shoot the basketball the same way as your favorite NBA star. Paul Pierce, one of the faces of the Celtics franchise for the last decade, has a distinct jump shot with a slow release and exaggerated follow-through. NBA 2K11 allows you to replicate Paul Pierce's famous jump shot with any player in the game.
Step

1
Press the 2K Navigation button -- the "Escape" button on the PC. This brings you to the central navigation screen, where you can get to the next step. Push the button on the home screen of the game before you get into your Association or start a game. Otherwise, changes will not be saved.
Step

2
Find the player to whom you want to assign Paul Pierce's jump shot. This can be a created player or any existing player. To create a player, go to the "My Player" option and then "New." To alter an existing player, go to "Manage Rosters" and then "Rosters."
Step

3
Select the player and go to the third of six options, "Edit Player."
Step

4
Navigate to the "Signatures" page on the "Edit Player" screen to change various aspects of the player, including abilities, tendencies and appearance. The first screen is "Vitals"; the eighth is "Signatures."
Step

5
Change the first option on the Signatures page called "Jumper." Select Paul Pierce from the alphabetical list, navigating with the arrows.
Tips & Warnings
Alter any of the other types of shots you want to mimic Paul Pierce. All other shots, such as the fadeaway, runner, leaner and free throw, can be altered to look like Paul Pierce's shot, but they must be changed as individual shots. They are all located on the same Signatures page.

Share your Paul Pierce jump shot with friends by signing into your online account if you have the PC version or Xbox Live. Choose your player in a one-on-one pick-up game and shock your online opponent when, for example, Dwight Howard pulls up with Paul Pierce's patented follow-through.
References
Photo Credits
Elsa/Getty Images Sport/Getty Images