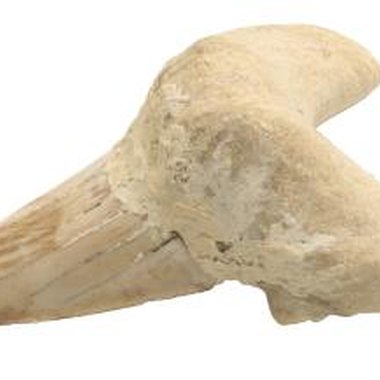 Venice Beach, Florida, is a marine fossil-hunters paradise. Located on Florida's Gulf of Mexico coast, approximately 18 miles miles south of Sarasota, Venice Beach often is called the "Shark Tooth Capital of the World," according to Escape to Sarasota. Venice Beach is one of a 14-mile series of beaches located on Venice Island, all of which offer the opportunity to hunt for sharks teeth, either along the coastline or by snorkeling and scuba diving.
Hunting Methods
Scuba diving and snorkeling yield the best results, however, lucky hunters find shark teeth right along the beach. The two methods for locating shark teeth are "free hand," where you either sift by hand, or just pick up the fossil, and the basket method, where you sift sand in a colander-type basket. Sharks tooth baskets are available at most Venice beach shops.
Hot Spots
The Venice Island coast has three prime shark tooth hunting areas: Venice Beach, Casperson Beach and the islands created by dredging around Venice Inlet. The easiest hunting is at the Venice Inlet islands, where dredging has brought many fossils to the surface, and are easily accessible to those walking the beach or wading in shallow water. The best snorkeling or scuba diving hunting at the other spots is done in the 15- to 20-foot depth range.
Snorkeling and Diving
At Venice and Casperson Beach, a variety of shark's teeth might be found, including large, prehistoric Megalodon teeth. Many hunters snorkel-swim the length of Venice Beach, picking up anything black. Others snorkel or scuba to 20 feet, bringing batches of sand to the surface to place in a screen-fitted inner tube. Casperson Beach's best hunting is at the 22-foot depth level, where a series of ledges is swept of sand by wave action. Sand is deposited and removed by the waves, exposing teeth for the diver to pick up.
Guided Expeditions
As Venice Beach is known as the "Shark Tooth Capital of the World," many local companies specialize in guiding vacationers to the best hunting spots, while giving you some shark tooth hunting tricks of the trade. Charter boat scuba day trips are easily found, such as Seminole Scuba (seminolescuba.com) and the Hammerhead (scubadiver.cc) charter boat. Diving For Fun (divingforfun.com) offers different excursions, from scuba boats with the Florida West Scuba School, to a variety of beach trips that can include your choice of lunch, hotel accommodations and other options.
Photo Credits
Hemera Technologies/PhotoObjects.net/Getty Images