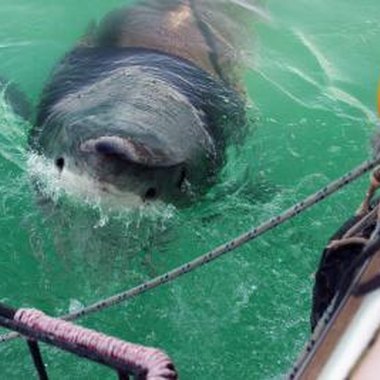 Interest in shark interaction has peaked in recent years thanks to the avid devotion of Discovery Channel producers and Shark Week--a week of television programming dedicated to understanding and exploring the world of sharks. Although Shark Week has been airing since 1986, the Discovery Channel has placed particular focus in the last five years on how to experience sharks safely, as of 2011. Divers frequently are shown in cages interacting with various types of sharks. Thanks to several accredited and experienced operations on the Atlantic coast, amateurs also can experience the thrill of diving with sharks.
Bahamas Shark Cage Diving
The Bahamas, a group of islands located off the southeast coast of Florida, is known for its waters rich with tropical life. The islands have many cage diving options, including Cage Diver (cagediver.com), located on Grand Bahama Island. For about $875, or about $375 to watch safely from the boat, travelers and shark enthusiasts alike can dive with tiger sharks. The price includes transportation, a day on the boat, refreshments and diving. Divers must bring their own mask. Cage Diver recommends that divers also bring an underwater camera. Cage Diver has a shark guarantee--anyone who books definitely will see a shark. All prices listed are as of June 2011.
South Africa Shark Diving
The Discovery Channel frequently lauds the Atlantic South African coast as the ideal hotbed to interact with great white sharks. Several companies offer diving experiences, but one of the highest-reviewed organizations is Africa Shark Dive Safaris (africasharkdivesafaris.com). Located about a two-hour drive south of Cape Town, the company dispatches diving teams to take participants out to "Shark Alley" to interact with the great whites. For about $200, or $1,300 South African rand as of June 2011, participants can enjoy a package that includes transportation from Cape Town, meals and diving. No diving requirements are necessary to participate. Divers will be accompanied by a team of experts.
Honduras Shark Submarine Diving
For the extremely adventurous, Karl Stanley offers the shark-diving experience of a lifetime (stanleysubmarines.com). Operating off the eastern coast of Honduras, Stanley takes explorers down two at a time in his self-built submarine. He is a member of the Deep Submarine Pilots Association. On this tour, guests will encounter the rarely seen six-gilled shark. For about $1,500, as of June 2011, guests will be taken down almost 1,500 feet to the ocean depths. Those interested in the for six-to-nine-hour tour should be prepared to spend about nine hours in the small sub. Although Stanley is highly experienced, his sub is uninsured.
Cancun Shark Cage Diving
Cancun is a popular spring break destination for college students and young couples. Cancun or nearby Cozumel, Mexico, visitors can cage dive with sharks for a nominal fee with Shark Encounters (cancun-discounts.com). For about $100 for two people, as of June 2011, visitors are put in a glass cage lowered into the Atlantic Ocean. Guests encounter blue and bull sharks. The tour includes a 15-minute tour, shark food to feed the sharks, mask and wetsuit, a guide and entrance fee into the Cancun Aquarium. This experience is ideal for those who may not want to experience shark diving in more wild environments. As this tour is highly tourist-focused, the sharks are used to interacting with people.
Photo Credits
Dan Kitwood/Getty Images News/Getty Images