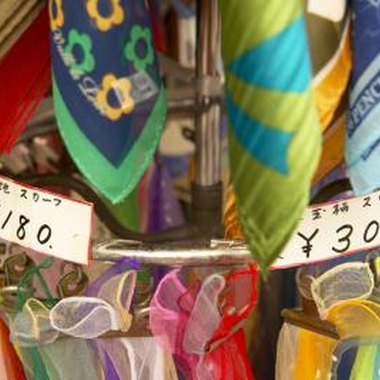 When most people think of pockets, the fabric compartments on trousers, jeans, jackets and inside bags generally come to mind. However, there's no reason why your favorite throw pillow can't have a pocket of its own. You can use this pocket to add decorative items like faux flowers, leaves or sticks and twigs. Alternatively, you can use the pocket for practical items such as a place to keep your reading glasses, notepad and pen. Whatever the use you have in mind for a pocket on your pillow, you don't have to create a whole new throw pillow from scratch. Rather, you can add one to an existing pillow with ease.
Items you will need
Handkerchief or fabric square

Pins

Throw pillow cover
Step

1
Lay your handkerchief or square of fabric out on front of you, face down. Regardless of whether you use a handkerchief or not, you should be working with a square of fabric that is at least 10 inches long and wide. Your resulting pocket will turn out to be approximately half as wide as the width of your square. Turn the handkerchief so that it takes on a diamond shape.
Step

2
Pull the bottom corner up to meet the top corner. Your handkerchief will now have a triangle shape. Pull the right corner of your handkerchief 1/3 of the way across the lower crease of the handkerchief.
Step

3
Take the left corner of your triangle and fold it across 1/3 of the way across the bottom fold of the fabric, overlapping on the folded right corner. Your handkerchief should look like an envelope with the flap up.
Step

4
Take the upper layer of the top corner of the folded handkerchief and pull it downwards. Pin it in place. Unzip or unbutton the cover from your throw pillow.
Step

5
Lay the throw pillow cover in front of you, face up. Pin your folded handkerchief to the dead center of the pillow, or wherever you would like it, inserting two pins along the bottom, right and left sides and at the top corner of the handkerchief.
Step

6
Sew the handkerchief to the middle of the pillow cover with a needle and matching thread, making sure to leave the top of the pocket open. Make tiny stitches that are close together. Replace the cover onto your throw pillow.
References
"Sew Vintage: New Creations from Found Fabrics"; Jennie Archer Atwood; 2002
Photo Credits
Jupiterimages/Photos.com/Getty Images