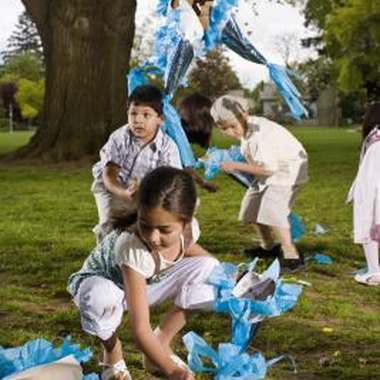 Seven-year-old kids explore their world in every way possible. Things that move, jump, clang and crash interest 7-year-olds. For this age, plan birthday parties that tap into children's desire to explore and use all their senses. For a birthday party they will remember and talk about, keep them involved with activities that challenge the mind and promote movement.
Location
Plan a party for active kids at a large backyard, a park, a pool or a lake. Make the location a place they can run and play. Have plenty of parents or other adult supervisors, especially if you hold the birthday party away from your home or where the kids are not enclosed. Double-check that the activities you plan for the party are allowed at the chosen location. If you must hold the birthday party at your home, move furniture to open up an area for play and put away anything that may get broken.
Activities
Provide the basics for building, such as blocks or magnetic connectors. Let children build the tallest towers, the most unusual creature or an awesome vehicle. Give prizes for the best, tallest and so on. Add magnets to small prizes and place in a kids' small swimming pool. Make fishing poles using straight sticks or dowel rods. Attach fishing line with string or yarn and add a magnet to the end. Let kids "fish" for prizes. If the birthday child likes trains, take the children to a regular or children's museum with a train engine. If there is a working train in the area, take the children for a ride. Plan a birthday camp-out in the backyard with tents. Make s'mores and roast marshmallows over a fire. If the party is for girls only, they may like the camping idea or prefer activities at a gym or dance studio.
Puppets and Magic
Using paper bags, have the kids make their own puppets. Separate them into groups to present puppets shows to the rest of the birthday guests. You may also want to bring in a group to do a puppet show. This may be a regular group from school, church or the community, or you might ask siblings and friends to create a show for the birthday child and friends. For a 7-year-old into magic, buy magic tricks for the kids to practice at the birthday party and present to the other guests, as well as to take home. Invite a teenager who does magic presentations to do a show for the birthday party.
Gifts
Make the gifts part of the games. If the party is in an enclosed area, ask each child to hide the gift brought. Instead of simply watching the honoree opening gifts, each guest directs the birthday child to the gift with the directions "hot" and "cold." Or, once everyone arrives, put the gifts out of sight and have the birthday guests guess how many gifts will be opened. Explain that there might be more gifts than the number of children, as they might not have considered parent and other family gifts. Have kids make their own take-home gifts. Provide lunch bags and let the kids decorate them with crayons, markers, glitter, ribbon and whatever else you supply. Fill with treats for the kids to take home. You might also have kids decorate a cookie to take home.
Photo Credits
Todd Warnock/Lifesize/Getty Images