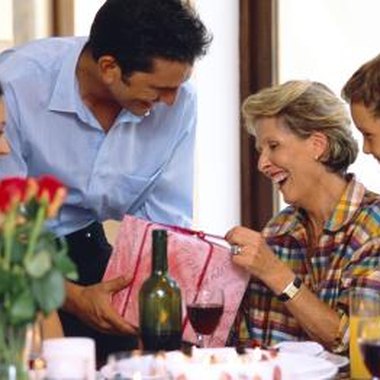 Setting up a birthday party dinner at home is an intimate and cost-effective way to celebrate the birthday of a friend or loved one. Having a party at home allows you and your guests privacy during your party in a way that a restaurant does not. Since you are setting up the dinner, you can customize the food to reflect the honored guest's food preferences and to accommodate any preferences or allergies that guests might have. It is easy to put personal touches on the decor and meal of a home birthday party dinner and doing so will show your affection for the guest of honor.
Items you will need
Invitations

Dinner ingredients

Assorted beverages

Paper or plastic plates and cups

Assorted decorations

Game supplies
Step

1
Choose the date of the dinner. The date may be the actual birth date of the person being honored or it may be the nearest convenient date.
Step

2
Decide who will be invited to your birthday party dinner. Obtain the addresses, email addresses or phone numbers of guests so that you can contact them.
Step

3
Invite your guests. You may do this in person, by mailing or emailing invitations or by phoning your guests. Give your guests relevant information such as the address of the home where the party is being held, the time they should arrive and your contact information in case they have any questions. Also be sure to let guests know whether it is a surprise party. Make sure to invite the person whose birthday you are celebrating. If it is a surprise party, come up with a creative excuse to have them arrive at your home at the correct time.
Step

4
Check to see if any of your guests have food allergies. Make note of any allergies and keep them in mind when you plan the dinner.
Step

5
Decide what kind of food you will serve for the dinner. A formal party might entail a roast of some kind along with vegetable side dishes. An informal party might entail barbequed hamburgers and hot dogs. Go grocery shopping to ensure that you have all of the necessary ingredients.
Step

6
Decide whether you will buy or bake the birthday cake. If buying, place the order in advance to ensure that your cake is ready for the party. If baking, buy the ingredients when you go grocery shopping for your other dinner supplies.
Step

7
Decide which beverages you will serve and buy accordingly.
Step

8
Buy paper or plastic plates and cups, if desired. These make cleaning up after the party easier on the host and are available in a variety of colors and designs to add to the decor of the event. However, they may not be desirable for a formal birthday dinner.
Step

9
Decide how you will decorate for the birthday party. Popular items include helium balloons, confetti and banners. Purchase your preferred decorations a few days before the party. If using helium balloons, you may wish to pick these up on the day of the party to ensure that they do not deflate.
Step

10
Think about any birthday party games or activities you may want guests to engage in. Popular birthday games include Pin the Tail on the Donkey, the limbo and musical chairs. Many party supply stores sell the items required to play these games. You could also make your own piñata, or buy a pre-made one. You can make your own Pin the Tail on the Donkey game, and use household items for the limbo or musical chairs.
Step

11
Set up your decorations on the day of the party. Place the decorations in the areas you will be using for the party such as the dining room, kitchen or backyard.
Step

12
Time out how long it will take you to cook the birthday dinner and begin preparing the meal so that it will be ready for the correct time during the party.
Step

13
Serve appetizers to guests upon arrival, if desired. Be sure to offer beverages and make your guests comfortable in your home. If there are specific areas in your home that you wish guests to avoid, let them know.
Photo Credits
Goodshoot/Goodshoot/Getty Images