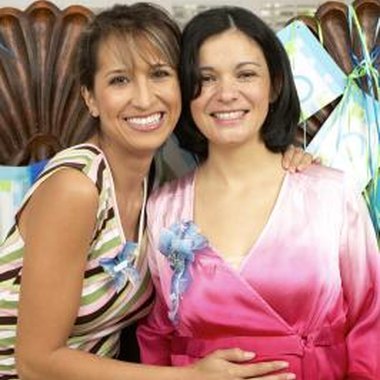 A baby shower has a few purposes. The soon-to-be mother receives gifts, while her guests get to socialize and coo over the idea of a new baby. Since each mother and baby are special, each shower should be special too. Planning this event doesn't have to be stressful, however. Use plenty of family photos and give guests an opportunity to bond, and everyone will go home happy.
Invitations
Invitations set the tone for the event, so invitations for a sentimental shower should make each invited guest let out an "aww!" Use baby pictures of the parents on the invitation, or take it a step further by collecting baby photos of the child's siblings, parents, grandparents and great-grandparents. When a title like "Welcome the newest member of the Jones family" is printed on top of all these pictures, guests will be so touched they might start digging out their own baby photos.
Games
One of the hallmarks of a baby shower is the games, but games that require guests to poke through a diaper won't have them lining up to play. Get the grandmothers involved in creating sweet shower games. Ask the mothers of the anxious parents to write up some descriptions of different behaviors their children had when they were young. Read them aloud, and ask guests to guess whether it was Mary or Tom who would stop crying only when shown a picture of a giraffe.
Gifts for Mom
Most gifts that new mothers receive at the shower are for the baby, but she's the one who's putting all the effort into this new life. If she's a first-time mother, she may be so nervous she can't think straight. Ask all the guests who are mothers to contribute to an advice album. Give each woman a piece of scrapbook paper for her to decorate with words of wisdom, then collect them all in an album. When the new mother is losing her mind during yet another 3 a.m. feeding, she can pull out the book and remember that others have been in her shoes before.
Gifts for Baby
Although the baby won't be particularly interested in the gifts his mom received at her shower, he'll love getting gifts when he's older. Ask each guest to make a birthday card to give the baby on one of his future birthdays. Assign each guest one year so the baby will have one card to open on each birthday. If you want to give the baby a head start on learning to read, pass out paper and art supplies so each guest can create her own story book for him. Laminate the pages of each book so they won't be destroyed by a sticky-fingered baby.
Photo Credits
Creatas/Creatas/Getty Images