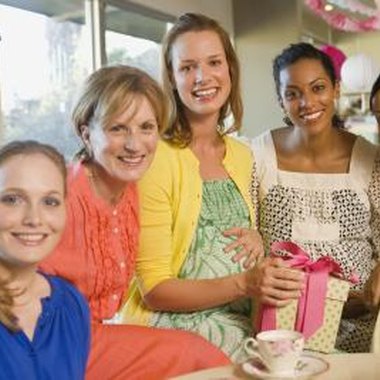 A highlight of any baby shower, games provide a welcome reprieve from the ooh-ing and ahh-ing over sweet baby items revealed during the gift opening. If you think your only options for games involves clothes pins and making a gift bow hat for the expectant mother, think again. Playing sentimental baby shower games will not only provide the new mommy with treasured memories, but delight all your shower guests.
Match the Baby
Everyone loves looking at baby photos. Ask your guests to provide a photo of themselves when they were babies. Write their names on the back of the photos before numbering them and arranging them on a table or poster board. On a separate piece of paper name those who have submitted photos to the match the baby game. During the shower guests can make their guesses. The person who correctly matches the most photos to names wins.
True or False
A week or two before the shower, invite guests older than the mom-to-be to provide you with tidbits of her early childhood. Ask about her first words, favorite toys and any other memorable moments they may have. Use this information to create a true or false quiz for the expectant mother. Not only will this game will delight the expectant mother, it will take close relatives and friends down memory lane. Guests can also take wagers of how many correct answers the guest of honor will make.
Quizzing Daddy
While expectant fathers traditionally don't attend baby showers, you get him involved in the festivities by asking him to help create a quiz. Ask him to provide answers to a series of several questions. Possible questions to ask include how many hours of sleep does he expect to get? How many diapers will a baby need each day? How many feedings does a newborn require? Ask guests to guess the answers provided by the expectant daddy.
Back in Time
Create a time capsule for the new arrival. When inviting guests, ask them to bring small items used in today's daily life for a time capsule the baby will open when he or she reaches adulthood. Request that guests provide a small note as to why they chose the item for the time capsule. To make the process more fun, hand out prizes for the most unusual, mundane and clever items submitted for the time capsule.
Photo Credits
Jupiterimages/Brand X Pictures/Getty Images