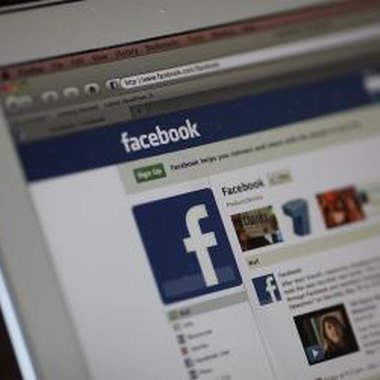 Facebook events are a quick way to disseminate information about your next party or other affair to a large amount of people. Once invited, guests may reply right on Facebook, making it easy to track your RSVPs. If you want to double-check that a particular person received an invite, or remove a person from the guest list, the full list of invitees is always available on the event page. Only an administrator may remove a guest; the creator is an administrator and may appoint other guests to the same position.
Step

1
Click on the "Events" link just under your profile picture on the Facebook homepage.
Step

2
Click on the name of an event to open its page.
Step

3
Click the blue "See All" link above the guest list, which runs vertically down the left side of the page. Facebook displays the name and thumbnail of everyone who was sent an invite.
Step

4
Click on the "x" just to the right of a guest's name to remove a guest from the list. Refine the guest list by RSVP status using the gray icon at the top of the list. Click on the icon and click a status, such as "Attending" or "Not Attending," to see all guests who have responded with that particular reply.
Photo Credits
Justin Sullivan/Getty Images News/Getty Images