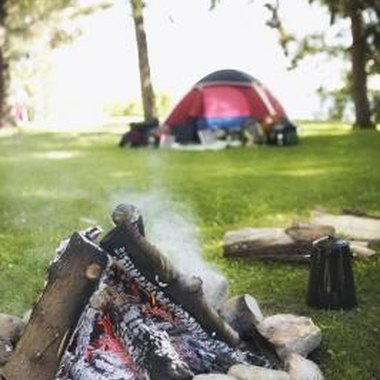 Campgrounds near the northeastern California ghost town of Seneca suit most every individual need. Some travelers prefer a rustic site while others seek out areas with amenities and all the comforts of home. Whatever your preference, there is plenty of variety in the types and features of all the campgrounds in this picturesque area of California. While none of the sites are in Seneca proper, they are close enough to drive to within a reasonable time.
Location and History
Seneca, California is located about 15 miles west and slightly south of Greenville in Plumas County. With an elevation of almost 3,600 feet, this now-deserted town is located in Feather River Canyon and surrounded by fantastic views of nearby mountains. The area was developed beginning in 1851 with findings of gold nuggets but died out after gold was no longer found. It was rebuilt and the mines reactivated around 1920 but became the ghost town it is now after World War II.
Natural Campgrounds
The entrance to Plumas National Forest is about 16 miles from Seneca. This natural recreational and camping area covers almost 1,150,000 acres and was established in 1905. Entering the forest is free of charge. It offers visitors many types of accommodations, including cabin rentals, equestrian camps, group camps and RV parking sites most of which are privately operated with their own fee structures. Activities include swimming, hiking, boating, rafting, picnicking and fishing.
Resorts
For family fun and a multitude of activities, resorts about 10 miles north of Seneca include the Vagabond Resort and the Lake Cove Resort and Marina on Lake Almanor. Belden, California, about 20 miles southwest of Seneca, boasts the Belden Town Resort and Lodge. These facilities provide more amenities for the camper who desires some of the comforts of home, including laundries, dump sites, showers, the Internet and cabins. The Belden Resort also offers a restaurant and a bar for hungry and thirsty travelers and overlooks the scenic Feather River, where fishing and opportunities for water sports and other activities abound.
RV Parks
RV parking and camping areas available for Seneca visitors include the Brookside RV Park and the Leisure RV Park, both located in Chester, California, about 21 miles north of Seneca on the opposite side of Lake Almanor. Both offer reasonable rates of between $30 and $36 per night as of 2011, spacious parking and easy access to boating, fishing, swimming, golf, hiking and more.
Photo Credits
Jupiterimages/Brand X Pictures/Getty Images