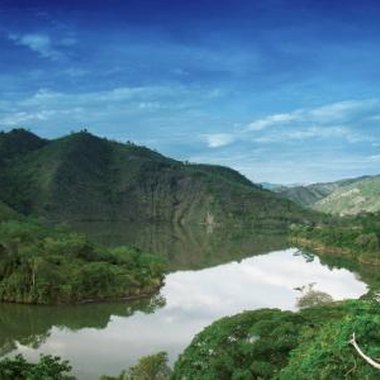 Yellowstone Park is a popular destination for tourists interested in viewing wildlife, live geysers and incredible scenery; you can also learn about the park's ecosystem. Although some visitors are happy with hotel lodgings, others prefer more seclusion than hotels can offer. With the proper planning, you can find a cabin offering the right amount of seclusion in or near the park.
Cabins within the Park
Covering more than 18 million acres, Yellowstone Park is one of the world's largest surviving temperate zone ecosystems. The park system must keep lodging sustainable to maintain the survival of this ecosystem. While cabins are available in seven locations in the park they are in groups of four to eight cabins located around the Grand Loop Road. Of the cabin groups, Lake Lodge cabins are the most secluded. All cabins are closed between September and October for the winter except Old Faithful Snow Lodge and Cabins, which are open between late December and early March.
Reservations and Costs
Advance reservations are not necessary to enter the park; however, if you are planning to rent a cabin inside of the park, you will want to choose your location and make reservations as far in advance as possible since cabins are few and demand is high. Cabin prices range from $60 to $450 per night. Remember, there are other fees you will need to pay to get into the park. It is $25 for a seven-day pass for noncommercial vehicles and $20 per motorcycle or snowmobile. You can call for more information and to make reservations at: Xanterra Parks and Resorts, 800-439-7375.
Secluded Cabins Near the Park
The Greater Yellowstone ecosystem does not stop at the border of Yellowstone Park. Those wanting more seclusion than the park itself may offer will find a variety of cabins available with greater seclusion and quick access to Yellowstone. Cabins in the southern gate access areas, such as Jackson and Dubois, Wyoming, also provide quick access to Grand Teton National Park, which is covered by your Yellowstone entry permit. Both single cabins and secluded resorts with multiple cabins are available. Getting the best cabin for your interests may take some research. You can check availabilities by searching online or by calling property management companies or Chambers of Commerce in the towns near the park gates.
Considerations
Secluded cabins are more expensive for just a few people, but if your group is big enough that you would need several rooms, a large cabin with several bedrooms can sometimes save your group money. Some cabins have extra fees, such as cleaning fees, so make sure you know the full price of lodging before making your reservation. Unlike cabins within Yellowstone Park, cabins near the park often come with amenities such as television, washers and dryers, Jacuzzis and Internet access, so be sure to ask about any items relevant to your needs. Just as inside the park, cabins are in high demand, so you will want to make reservations as far in advance as possible.
Photo Credits
Medioimages/Photodisc/Photodisc/Getty Images