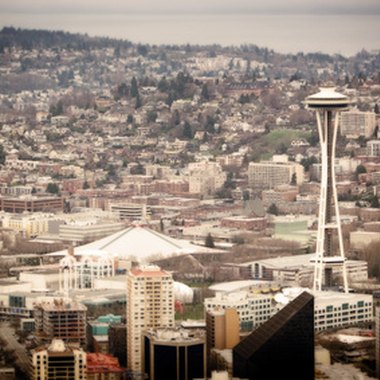 Famous for its 24-hour sidewalk scene, the Capitol Hill area of Seattle attracts visitors looking to take in the neighborhood's diverse population and San Francisco-like topography. Its proximity to I-5 (Interstate 5) allows for easy to access to the small handful of area hotels. Littered with historic mansions, several accommodations exist for those looking for the bed-and-breakfast scene. Hotels, on the other hand, are sparser, but may be a more affordable option.
Marriott Residence Inn
The Marriott Residence Inn on Fairview Avenue North is an extended-stay hotel that is perfect for those in the area for awhile or for families that prefer to make their own meals in lieu of frequently eating in restaurants. All of the rooms at the Residence Inn are one- or two-bedroom suites that feature separate living and sleeping quarters and a fully stocked kitchen. Accommodations are modernly decorated with red accent walls, green dining chairs, wooden tables with inlaid accents, and stainless steel appliances. Many of the suites have balconies that offer views of the Space Needle. Amenities include cookbooks guests can borrow and a complimentary shuttle service that transports guests anywhere within a two-mile radius of the Marriott Residence Inn.
Silver Cloud Inn
Located on the noisy intersection of Broadway and Madison Street, the Silver Cloud Inn is across the street from the Swedish Medical Center and Seattle University. This hotel is in a red brick building that does not seem like much to passersby, but the Silver Cloud Inn greets guests with a lobby with tile floors, marble features, modern artwork, designer furnishings and a freestanding fireplace. Guest rooms mix traditional and modern décor with desktops that look like granite, large club chairs, wooden headboards and an in-room fireplace. The King Jacuzzi Rooms features a two-person, jetted whirlpool tub that is steps away from the king be, and offers window views of the city. The Silver Cloud Inn offers its guests a complimentary shuttle service to local destinations.
Gaslight Inn
Set in a large home in a Capitol Hill neighborhood, the Gaslight Inn is a cross between a small hotel and larger bed and breakfast. The entryway of the accommodation is large and features oak paneling, large oak fireplace, library and the owner's private art collection, which includes Native American art, paintings, glasswork and pottery. Accommodations at the Gaslight Inn are for single or double occupancy, which is ideal for couples or those traveling on business, and feature original pieces of art, large windows that allow for an abundance of natural lighting and refrigerators. Some rooms have their own decks, and all but two of the accommodations have their own private bathrooms. When considering a stay at the Gaslight Inn, Capitol Hill visitors should keep in mind that this establishment does not have air-conditioned rooms, only a maximum of two guests are allowed per room and linens are changed every fourth day of a guest's stay.
Alternative Suites International
Perfect for penny-pinching business travelers, those on an extended vacation or those moving into the Seattle area, the Alternative Suites Hotel (ASI) offers accommodations for both short- and long-term stays. This hotel claims to offer rooms that are larger than other extended-stay hotels at rates that are half the cost. Accommodations at the ASI look more like modernly furnished apartments than they do hotel rooms to help eliminate the living-out-of-a-suitcase feel, and range in size from studio suites to three-bedroom suites. Amenities include an in-suite washer and dryer, controlled access to the parking garage for security, relocation services and airport shuttle services.