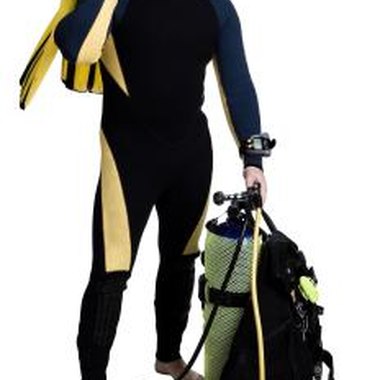 Serving as the capital city and main metropolitan area of Puerto Rico, San Juan is home to nearly 420,000 people, according to the "Welcome to Puerto Rico" website. Every year, San Juan attracts thousands of visitors to enjoy its culture, historic sites and other attractions and the city is also a popular port stop for many cruise itineraries. San Juan also brings in a large number of scuba diving fans each year, from amateurs to aficionados.
Scuba Sites
Because of its location to the north and the exposure to northern swells, San Juan has only a few dive sites, according to the "Carib Dive Guide" website. San Juan dive sites feature sloping terrain and both hard and soft corals. San Juan's Coronado District dive site features small tropical fish, along with sea horses, crabs, shrimp, octopuses and batfish and allows divers to explore caverns, tunnels and overhangs. Coronado is a beach dive that is easily accessible from downtown San Juan. Many of San Juan's private dive companies also operate and own their own dive sites.
Dive Companies
San Juan is home to a number of dive companies that can help all levels of divers make the most of their scuba trip. Dive companies often offer a number of dive services, such as Caribe Aquatic Adventures (diveguide.com/p2046), which offers two local, private dive sites, escorted dive tours, day trips and bilingual and professionally certified dive guides. Ocean Sports (osdivers.com) also offers daily scuba and snorkeling tours in the San Juan area and specializes in different types of dives like night dives, deep dives, wall dives, wreck dives and cavern dives.
Lessons
For novice divers who need certification and lessons or more experienced divers who just want to brush up on their skills, several San Juan companies also offer diving lessons. Aqua Adventure (aquaadventurepr.com) features three different scuba courses depending on the visitor's previous experience and skill level. Classes include Discover Scuba Diving for beginners, the Scuba Diver Course to develop more skills and the Open Water Course for divers wanting to achieve certification. All classes include dive time, equipment rental and lesson book. Scuba Dogs (scubadogs.net) operates as an exclusive dive school, offering nearly a dozen dive classes, from scuba basics to rescue diving to scuba for kids.
Vacations
Visitors to San Juan who want to make diving a central part of their Puerto Rican vacation can even find scuba diving vacation packages. Aqua Adventure (aquaadventurepr.com) in San Juan operates a six day, seven night dive vacation package that includes accommodations, meals, airport transfers and 11 dives throughout the week. Along with dive times, the vacation package includes sightseeing throughout Puerto Rico, beach days and free time to explore on your own. Packages can also include babysitting and activities for kids while the parents dive.
Resources
Photo Credits
PhotoObjects.net/PhotoObjects.net/Getty Images