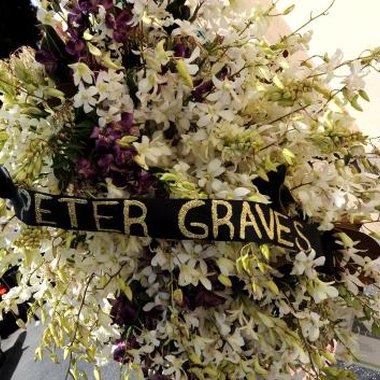 Based on the book by Richard Matheson, "Scream of the Wolf" was a made-for-television movie that aired on NBC Television on January 16, 1974. The thriller was directed by Dan Curtis and starred Peter Graves and Clint Walker. Full of intrigue and interesting plot twists, "Scream of the Wolf" is currently available on DVD.
Plot
The film "Scream of the Wolf" centers on John Weatherby, an adventure writer who is called to help investigate a series of vicious murders in the area. The gruesome killings have left local authorities mystified because there is no clear indication as to what has killed six townspeople. At a loss, Weatherby contacts an old colleague to aid him in hunting down the murderer, Byron Douglas. Douglas is a recluse hunter that seems to have a secretive past.
Twist
Light sheds on the murder investigation when tracks left at the scene are discovered to be both human and canine. Speculation arises that the beast is a werewolf, but unsatisfied, Weatherby investigates further. Clues lead him back to the house of his colleague Douglas, who he confronts at gun point. Douglas divulges that he is actually behind all of the murders, using a dog that he trained to kill people. When asked about his motives, the big game hunter reveals that he likes the thrill of the chase, and wanted an opportunity to draw Weatherby into a hunting game.
The Conclusion
With the secrets revealed, Douglas engages Weatherby in one last chase. He gives him an empty rifle and tells him the location of the shells, which are deep in the woods. Weatherby must use the shells to defend himself against Douglas and his man-killing dog to win the game. With a 5-minute head start, Weatherby runs to find the shells. In the nick of time, he loads the rifle and kills the dog. Douglas attacks Weatherby and the two engage in a fist fight. Douglas gets the better of Weatherby, who in turn pulls out a pistol and kills him.
Cast
The movie "Scream of the Wolf is directed by Dan Curtis --- a television director also known for the TV series "Winds of War." Veteran actor of the film and television, Peter Graves plays the lead character, John Weatherby, in the thriller. The rugged and mysterious Byron Douglas is played by Clive Walker, an actor most associated with the role of "Cheyenne Bodie," from the TV western "Cheyenne." The cast is rounded out by Jo Ann Pflug, a well-known television actress that plays the role of the female lead and love interest, Sandie Miller.
Photo Credits
Michael Buckner/Getty Images Entertainment/Getty Images