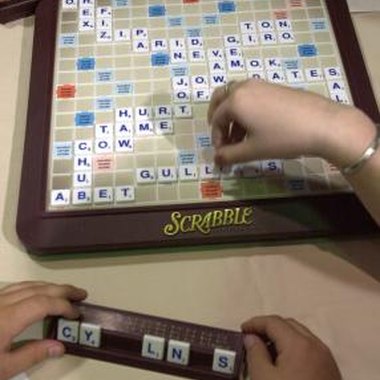 Each hour there are at least 30,000 Scrabble games started all over the world, according to the UK's "The Telegraph." This makes it one universally beloved board game, one that could be used as a fun party theme for like-minded people for ages 8 and up. If you and your friends are Scrabble fanatics, there are a variety of ways you can celebrate for many different occasions.
Types
A Scrabble party fits just about any occasion for most any age group. A Scrabble birthday party or baby shower will give you built-in activities and encourage participation and socialization. Maybe you want to host a Scrabble party with a bunch of word-loving friends just to celebrate a Saturday. Include a Family Game Night as part of reunion festivities. For those more ambitious, host a Scrabble tournament party.
Invitations
Start the fun before the party even begins by sending creative Scrabble invitations. Include seven tiny squares of paper with different letters and values just like the tiles used in the Scrabble game. Send each person invited the same set of letters, consonants with a couple of vowels, and offer a prize for the most creative and highest-scoring word for your guests with points deducted for unused letters. This gets all your guests in the mood before they even walk in the door.
Food
Finger foods work best for any theme party constructed around a gaming activity, and the Scrabble party mix recipe is made for munching. Combine one cup each of your favorite Chex cereals with one cup each of two or three types of nuts and two cups of pretzels in a large bowl. Stir in a half-pound, or one cup, of melted butter; a teaspoon of Worcestershire sauce; and a teaspoon each of garlic, onion or celery salt. Bake at 250 degrees for an hour. Stir every 15 minutes. Store any leftovers in plastic bags, which you can send with your guests as they leave.
Decor
If the party you're throwing is small, you might need only one Scrabble board. For groups over the recommended player guideline of two to four players, create stations throughout your party space with their own individual boards. Set the tone of your party by your own dress, which may include a Scrabble costume. Encourage socialization by having your guests wear a letter tile on their clothing. Play a Scrabble game with guests using the letter tiles they are wearing. To play this living Scrabble game, divide your guests into groups. See which group can create the most words using the letter tiles on their clothing. Set a time limit for creating words, and score the groups as you would normally score a Scrabble game.
Photo Credits
William B. Plowman/Getty Images News/Getty Images