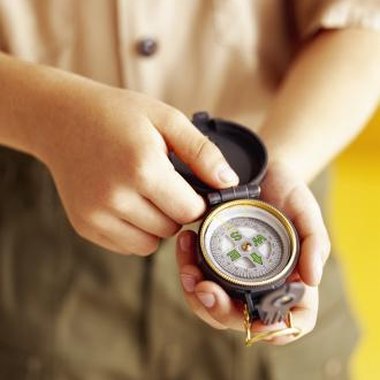 The Boy Scouts and the Girl Scouts promote self-reliance and leadership skills and teach team building and an appreciation for the outdoors. Very often these lessons are taught in a fun environment that includes Scout get-togethers and parties featuring games, food and fun. If you are planning a scout party, you should keep the focus of these organizations in mind.
Residing Spirit Campfire
Many scouts attend sleep-away camp. These camps often have an emphasis such as horseback riding, sailing and boating. Many of these camps have a residing spirit to promote fun and spirit. The spirit introduces herself to the campers on the first night of camp. If your camp has a mascot or residing spirit, help your kids get into the spirit by providing them with some sort of costume prop for the occasion. For example, if the camp has a fairy spirit, give the campers wings. Alternatively, if there's time for afternoon crafts before the campfire begins, have them make wings during craft time. Teach the scouts the camp song and ask them to write notes to put in a special tree for the mascot or spirit, as well.
Rainy Day Games
Although scouting emphasizes the outdoors, rain often ruins the campers' fun. If you've run into this challenge, move your party indoors by setting up some game, food and craft areas. Possible camp games include the mummy, pass the orange, musical chairs and telephone. Scrap cooking over the campfire and replace it with stations where kids can prepare peanut butter and jelly sandwiches and cut vegetables. Set up a craft area and provide craft materials as part of the rainy day party.
Cookout Challenge
Scouting wouldn't be scouting if the boys and girls involved didn't learn a little about building campfires and making scrumptious food over coals. This party requires a large area that either comes equipped with fire pits or allows space for building fire pits, which could be part of the challenge. Choose a list of approved recipes and have the campers involved in the challenge make a requisition list for the supplies needed. Appoint a start time and judges for the contest. Make sure there's plenty of adult supervision.
Choose Your Own Adventure
Many kids gain valuable skills from scouting and go on to become scout leaders or camp counselors. Consider asking older scouts to help with a "Choose Your Own Adventure" party. The purpose of this party is to teach the other kids to plan an event to promote scouting. To get the kids ready, ask them to plan the party, including making invitations and a list of potential campers. Have them put together packets filled with brochures about scouting, lyrics to scouting songs and recipes and testimonials from other campers. These materials should promote the adventure of scouting and tell about scouting adventures in the area. Ask the kids to set up a refreshment table and plan games for the party's participants.
Photo Credits
Brand X Pictures/Brand X Pictures/Getty Images