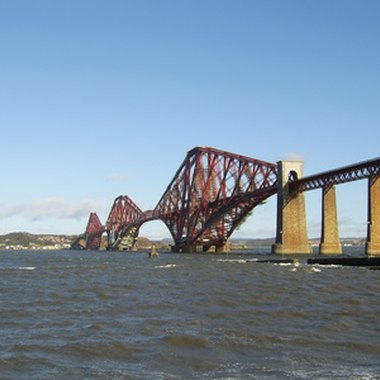 Only 59 hotels are rated four stars or higher in all of Scotland, according to the official tourism and hotel rating authority. To be accredited, hotels must pass an extensive examination that covers such criteria as cleanliness, hospitality, appearance and facilities. Those scoring between 70 and 84 percent receive the 4-star rating. Scotland's 4-star hotels range from small urban boutiques to rambling country houses. Each Scottish region has only a few. Those that may interest visitors the most are particularly reflective of the given region and its history.
Edinburgh
Edinburgh owes much of its charm to its Georgian architecture. The Macdonald Roxburghe Hotel, an elegant example of the style, overlooks Charlotte Square, home of Scotland's First Minister and Scotland's equivalent to Downing Street. A £7.5 million 21st-century refurbishment program has included individual redesign of the hotel's 198 rooms to complement the Georgian building. Some rooms are contemporary, but feature rooms have original Georgian details and views of either Charlotte Square or Edinburgh Castle. Facilities include a luxury spa, seven meeting rooms and the George Suite, where 300 guests can be entertained.
Glasgow
Movies and comedians like Billy Connolly have associated Glasgow, in the popular imagination, with tough neighborhoods, slum dwellings and grim streets. But modern Glasgow is a cleaner, more exciting and more culturally vibrant city than in the past. Part of that involves celebrating the city's heritage, and Sherbrooke Castle is a prime example. Built in the Scottish baronial style in 1896, the house is set in its own grounds in Pollokshields, five minutes from Glasgow center. Created by a prominent contractor for his own family, it's a reminder of how Glasgow's wealthy industrialists lived before World War I. Luxury rooms are arranged around a large hall and massive staircase. Some have original features. The house's square tower is a well-known south Glasgow landmark.
The Highlands
Redolent of Scottish fantasy, the Loch Ness Country House Hotel is a Georgian country mansion between the Highland gateway of Inverness and the northern shore of Loch Ness. Rooms overlooking the gardens are decorated with hints of tartan and period features. The modern bathrooms, supplied with luxury Penhaligon toiletries, are of marble. The house has six acres of gardens that have been cultivated for more than 200 years. Many of the fruits, vegetables and herbs served at this hotel are grown in its own ancient walled garden. The Loch Ness Country House Hotel is conveniently located for excursions to Loch Ness, Moray Firth and the Inverness Caledonian Canal.
The West
Scotland's Western Highlands and West Coast are rich in the history of the clans. Argyll, Stirling and the Trossachs are Rob Roy and William Wallace country. And some of Scotland's lesser known but most beautiful lochs are tucked away in the glens. Knipoch Hotel, on the shore of Loch Feochan in Argyll, has a romantic place in Scottish history. It was here, in 1592, that Campbell, Thane of Cawdor, was assassinated. The family home of the Craigs for many generations, the house was converted into a small, privately owned luxury hotel in 1981. It is now run by three generations of the Craig family.
Photo Credits
Bridge in Edinburgh image by Tomasz Cebo from Fotolia.com