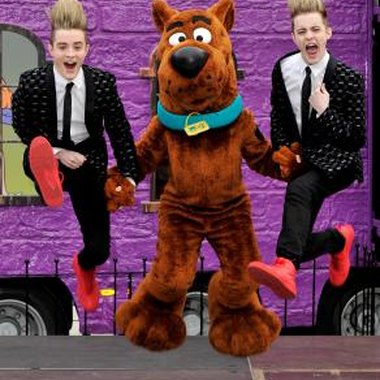 Make your Scooby-Doo theme party complete by providing lots of options for Scooby-Doo crafts. These crafts also work as party favors the children can take home. Ideas include making Scooby-Doo puppets, calendars, plush toys and costumes, as well as edible crafts children can munch on throughout the festivities.
Puppet Crafts
At children's parties, make Scooby-Doo puppet crafts out of brown paper lunch bags. Print Scooby-Doo character templates from craft websites, such as Jim Barry's Woodworkers Workshop (woodworkersworkshop.com) or Cartoon Jr. (cartoonjr.com), or draw your own outlines and make copies. Glue the templates to the side of the bag that doesn't fold down and decorate as desired for an easy party craft. Other ideas for Scooby-Doo puppets include gluing Scooby-Doo head or body templates onto wooden craft sticks.
Costume Crafts
Costume craft ideas for a Scooby-Doo theme party includes re-creating Scooby's collar by coloring diamond-shaped pieces of card stock green with yellow "SD" letters in the middle. Use a hole punch to thread a piece of green ribbon through the diamond to complete the craft. Other costume ideas include making a Scrappy-Doo hat by gluing large "googly eyes," a brown or black felt nose and eyebrows, and pink ears to a plain brownish-orange trucker hat.
Edible Crafts
Edible Scooby-Doo crafts include decorating sugar cookies in the shape of "dog bones" or frosting small cakes in the shape of paw prints. Other cookie craft ideas include decorating van-shaped sugar cookies with blue, green and orange frosting to make edible "Mystery Machines" and helping children paint fondant pieces in the shape of Scooby characters to set atop birthday cakes and cupcakes. Another option is to provide sandwich meat, cheese, vegetables and condiments, as well as a stack of bread, for creating Scooby and Shaggy's famous sandwiches.
Additional Craft Ideas
Additional craft ideas for a Scooby-Doo theme party include decorating brown "dog bowls." Kids can use black paint to mimic Scooby's markings or can decorate the bowls however they choose, using a variety of paints and other embellishments such as sequins and faux jewels. Print Scooby-Doo calendars and charts from websites such as Free Printables (freeprintable.com) and Free Printable Behavior Charts (freeprintablebehaviorcharts.com) for kids to color and take home as a practical party favor. You can also outline your own calendar template, make copies and provide Scooby-Doo coloring pages to create calendar crafts. Other ideas include stuffed pre-sewn Scooby character plush toys with craft filler.
Photo Credits
Gareth Cattermole/Getty Images Entertainment/Getty Images