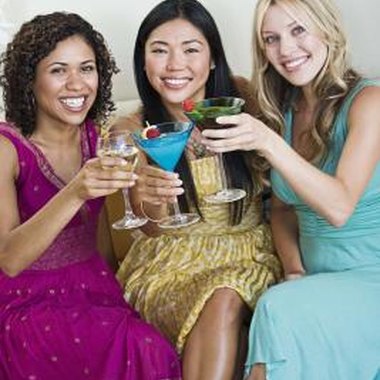 Scentsy (scentsy.net) is a unique line of home fragrances that don't use wicks or need to be lit. Known as wickless candles, the popular Scentsy warmer is a decorative container with space for a low-wattage bulb that gently heats and melts specially formulated scented wax in the upper compartment. Scentsy operates on a direct sales business model, wherein Scentsy consultants work with hosts and hostesses to bring Scentsy products to friends and family. Hosts sign up to offer a location, guest list and light refreshments, and the Scentsy consultant provides sample products and takes orders. Hosting a Scentsy party can be a lot of fun, especially if you plan a few games for your guests to play that incorporate the home fragrance theme.
Guess That Scent
Scentsy consultants can provide as many as 80 fragrance samples for an in-home Scentsy party. Prepare a selection of the scent samples, making sure to include traditional fragrances, such as vanilla and lavender, in addition to some more adventurous scents. Have your guests close their eyes as they sample scents and try to guess what each one is. Have guests describe their reactions to various scents. In between scent samples, make sure a "basic" scent is available to clear their nasal passages, such as a small bowl of fresh coffee beans.
The Straw Game
Adapted from a Tupperware party game, the straw game is designed to offer guests an opportunity to win discounted or free Scentsy products as well as the chance to host a Scentsy party. You will need 20 inexpensive Scentsy products, such as the Scentsy Scent Circle, 20 2-by-4-inch slips of colored paper, a good pen, and a decorative tray to scatter the scent circles (quantities can be adjusted if you are hosting a smaller or larger party). Write one of the following messages on each slip of paper until you've used it all up: "Try Again" "Free Shipping" "15% Off Your Order" "You've Won a Free Scentsy Warmer!" "Host a Scentsy Party" Adhere the slips of paper to the scent circles' packaging, being careful not to damage the product. Make sure the message is concealed. Mix the completed scent circles on the tray, and tell your guests that they're invited to play for a chance to win a Scentsy product as well as the chance to host a Scentsy party. Let them know that by playing, they agree to host a Scentsy party within the next two to three weeks if they draw the respective scent circle, but that participating in the game is optional.
Forbidden Buzzword Game
For the Forbidden Buzzword game, you will need enough clothespins, or other small, inexpensive item, to give to each guest as she arrives. As you give each guest a clothespin, tell her to listen for the party's forbidden buzzword during the normal course of introductions and conversations -- good buzzwords could be Scentsy, free, candle, fragrance or party. If a guest overhears someone else saying the buzzword, she can take that person's clothespin. At the end of the party, the person with the largest number of clothespins is declared the winner, and you may want to offer her a Scentsy prize, such as a discount or free item. This game is also great as an icebreaker.
Timer Party Games
For timer party games, you will need an egg timer. For the Countdown Special game, set the timer for 5 to 10 minutes as you or the consultant demonstrates the Scentsy products. Whichever product is in the demonstrator's hands when the timer goes off is on sale for, say, 10 to 15 percent off for the duration of the party. For a variation on the Countdown Special game, set a timer for five minutes at the beginning of the product demonstration. Give a Scentsy product or party prize to the guest closest to you and instruct her to pass it on whenever she hears the demonstrator say the word "Scentsy." Whoever is holding the product when the timer goes off, wins, and gets to keep the prize or receive a special Scentsy discount. If you enjoy it, you can repeat this giveaway game for the duration of the demonstration so that more guests get the chance for a freebie.
Photo Credits
Jupiterimages/Brand X Pictures/Getty Images