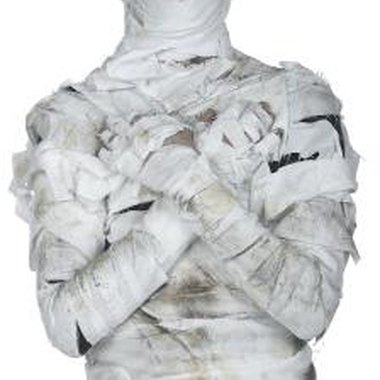 All Hallows Eve: a night of scary costumes, trick-or-treating and tiny stomachs bloated with miniature candy bars. But in San Antonio, Texas, thankfully you'll find entertaining options for celebrating the Halloween season, including haunted house tours and hunting for ghosts. And for younger children or those faint of heart, San Antonio also hosts several family-oriented events with lower scare factors.
Haunted Houses
Several haunted houses appear annually around the Halloween season, including the Terror Mansion (terrormansionusa.com) located on West Laurel Street just off of San Pedro, which features 23 rooms with a mix of gross-out and frightening experiences. Visitors make their way through a maze of rooms while famous monsters from classic horror films chase them through the haunted house. A discounted rate for large groups of 30 or more is available. Remember the Alamo, but don't forget Ripley's Haunted Adventure (ripleys.com). Just across the street from the historic Spanish mission is a haunted house featuring live actors in truly horrendous makeup. A coffin cage ride at the end of the tour takes visitors to the top floor. If you aren't superstitious, check out the 13th Floor Haunted House on Commerce Street (13thfloorsanantonio.com). A ticket to this attraction grants access to two haunted houses: the 13th Floor Haunted House and Unearthed, a haunted house that begins in the basement of the building and leads back to the 13th Floor.
Ghostly Adventures
See the haunted railroad crossing on the corner of Shane Road and Villamain Road. According to local legend, the ghosts of schoolchildren killed in a bus crash on the crossing still remain in the area, pushing cars across the railroad tracks to safety. For a spookier ghost adventure, San Antonio Ghost Tours (alamocityghosttours.com) takes tourists to several graveyards in a climate-controlled tour bus while providing historic information and stories about some of the graveyards' residents.
Theme Park and Zoo Events
Every Halloween season, SeaWorld San Antonio transforms into the Howl-o-Scream (howloscream.com/sanantonio) with family-friendly activities and shows hosted throughout the day. A handy list of activities with "scare ratings" is posted on the Howl-o-Scream website. On Halloween weekend, the San Antonio Zoo (sazoo-aq.org) holds the annual Zoo Boo. This family-friendly zoo-wide event hosts activities and games geared towards children 12 years or younger. A costume contest, trick-or-treating and face-painting round out the Zoo Boo experience.
Other Events
Nightmare on Grayson (nightmareongrayson.com) on Grayson Street is a hodgepodge of Halloween-themed activities. Keep an eye out for vendors hawking Halloween- and monster-related goods, street performances and several kid-friendly activities. The San Antonio Botanical Garden (sabot.org) annually hosts the BOOtanica Fall Festival, a family-friendly event with storytelling, pumpkin decorating and hands-on craft activities.
Photo Credits
NA/PhotoObjects.net/Getty Images