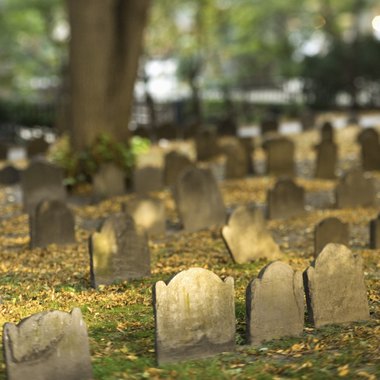 Halloween involves costumes, trick-or-treating, pumpkins and multiple events designed to scare you silly, including haunted houses and ghost walks. New Jersey residents have a variety of haunted options to choose from every Halloween, from slightly scary trails to frighten little kids to horrific trails to make teens and adults cringe.
Haunted Hayrides
Located in Marlboro, C. Casola Farms sponsors the annual Haunted Hay Ride of Terror (triplecnurseries.com/haunted/main.html), which takes visitors on a haunted tour of the backwoods of New Jersey to hear screams and witness eerie shadows. Also included with admission is "the scariest Haunted Barn on the East Coast" and a wooded trail filled with frights around every corner. Corrado's Farm in Hackettstown hosts the annual Hayride of Horrors (hayrideofhorrors.com), which takes guests on a haunted tour of the farm. The farm also offers a haunted house and corn maze for an additional charge.
Ghost Tours
The Ghost Tour in Ocean City (ghosttour.com/oceancity.html) takes visitors on a tour of downtown Ocean City and its haunted sites. Walking by candlelight, participants learn about the haunted history of Ocean City during the 90-minute tour. Elaine's Ghost Tours (elainesdinnertheater.com/ghost.html) guide visitors through Cape May and visit some of the resort's most haunted sites. Guests may also enjoy dinner in a haunted mansion before the tour. Princeton Tour Company (princetontourcompany.com) offers three different ghost tours, including a tour through Princeton University's campus and the city's upper-class neighborhood, a working-class neighborhood, a cemetery tour and a haunted pub crawl and cemetery ghost hunt, where participants are locked in a cemetery for a portion of the tour.
Haunted Mazes
The Field of Terror (fieldofterror.com) in East Windsor offers a five-acre haunted corn maze with frightening elements in 3-D. Other attractions around the maze include the haunted hayride, haunted barn and family-friendly flashlight maze for those who cannot stand to be frightened. Night of Terror at Creamy Acre Farms (nightofterror.com), in Mullica Hall, offers the Dreaded Cornfield Maze, where frightening scarecrows jump out and chase visitors as they make their way through the maze. Night of Terror offers five other attractions, including a 3-D Fun House and haunted trail called Mayhem of Darkness.
Other Events
In Keyport, the Macabre Manor (macabremanorhauntedhouse.com) has visitors tour an abandoned manor after dark. For those too scared to tour the manor in the dark, a Scaredy Cat Tour allows visitors to take the tour in daylight. State Scare (statescare.com), held at the state fairgrounds in Belleville, takes visitors on a haunted tour of the State Processing Factory, where zombie-like workers process food in exchange for free lunch -- rumored to be factory visitors and fellow workers. A "Not So Scary" hour is provided for children and adults with weak stomachs.
Attractions Near New Jersey
Located around 10 miles from the New Jersey border, The Bates Motel and Haunted Hayride (thebatesmotel.com) takes visitors on a haunted tour of an old Hollywood motel, complete with spirits and frights using high-tech movie special effects. The Haunted Hayride has been voted one of the scariest hayrides in the United States by numerous publications. Right on the Pennsylvania-New Jersey border, in Yardley, Pennsylvania, Shady Brook Farm (shadybrookfarm.com) sponsors an annual HorrorFest throughout the month of October which includes the Hayride of Horror designed to scare visitors as they tour the farm in the dark.
Photo Credits
Thinkstock/Comstock/Getty Images