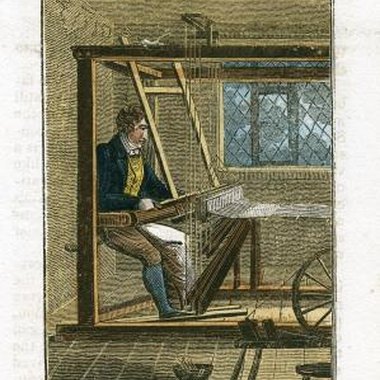 Scandinavian hand weavers have always enjoyed making beautiful textiles for the home. Traditionally, they make festive runners for the Christmas table, beautiful cup towels for everyday use, warm blankets and throws for the cold Scandinavian winters, and lacy curtains for their summer cabins. American weavers can learn a lot about good design from Scandinavian weavers: Scandinavian designs are clean and simple, yet sophisticated and cheerful.
Table Runners
Scandinavian weavers set the table a little differently from the way American weavers do. They make a long runner for the whole length of the table, and then shorter runners to cross the long runner at each place setting. Thus in the middle, where the two runners cross, there's an insulated place to put a hot casserole. You can copy this idea by warping your loom with cotton yarn in different colored stripes. For the weft, alternate between a thick, heavy weft and a lighter, thin one the same weight as the warp. You can use rags cut on the bias for the heavy, thick weft. The warp should be about 16 1/2 inches wide in the reed.
Kitchen Towels
Scandinavian weavers make durable, practical, and beautiful kitchen towels out of their favorite cottolin 22/2 warp and tow weft. This is a classic combination. The cottolin warp is a blend of cotton and linen which is very strong and absorbent. The sett should be 28 ends per inch, fairly close but not exactly warp-faced; the weft will show. Wind a warp about 14 1/2 inches wide and at least 4 yards long. Different colored stripes in the warp will make it beautiful; cottolin 22/2 comes in many colors. The weft is a somewhat hairy, coarse natural linen tow #8, which makes an absorbent filler for the towels. Each towel should be woven 32 inches long. When you take the towels off the loom, cut them apart, turn the hem under, and sew it down.
Throws and Blankets
Scandinavian winters are cold, and mothers like to wrap their children in warp throws in the evenings. A 6/2 wool yarn in several colors for a colorful plaid is perfect for the warp and weft. Wind a warp at least 30 inches wide and 3 yards long for one throw. Design a pretty plaid on the warping board as you wind. Sley it in the reed at 26 ends per inch. A twill threading is traditional for such blankets. Weave the weft colors in the same order that you wound them in the warp for a balanced plaid. The woven length should be 72 inches. Two floating selvedge threads at each edge will make a neat selvedge.
Curtains
Scandinavian people look forward to their short summers, when they can go to their summer houses and work in their gardens. Weavers like to decorate these houses with special breezy summer textiles, especially light-colored lace curtains. Fine yarns, such as Borg's 22/2 cottolin, work best for drapey curtains, sleyed at 18 ends per inch. Each curtain panel should be at least as wide as the window is wide, for sufficient fullness. A good threading draft for curtains is the lacey M's and O's. The weft can be singles half-bleached linen in the 12/1 grist.
References
"Favorite Scandinavian Projects to Weave"; Tina Ignell; 2008
Photo Credits
Photos.com/Photos.com/Getty Images