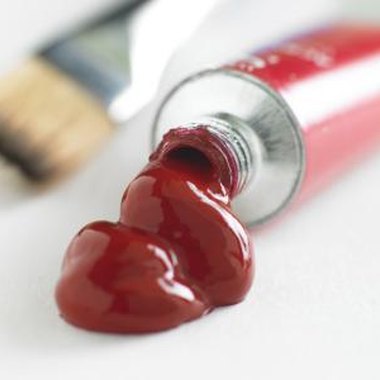 Walk through any lawn and garden department, hardware retailer or landscape supply store and one of the prominent items on display are pavers for making walkways, patios and retaining walls. Scalloped-edge pavers are some of the most common. Typically featuring a flat side opposite a scalloped edge, these pavers are favorites for garden edging and walkway accents. With a little creativity and a few supplies, leftover pavers from an outdoor project can become more than just decorative precast concrete. Ideas include doorstops, holiday decor or any number of charming crafts.
Things to Keep in Mind
Before getting carried away with creative uses for scalloped-edge pavers, there are a few things to keep in mind. Pavers, including scalloped-edge pavers, are made of precast concrete. The finished product is not only heavy, but even smooth edges are rough and gritty. Such characteristics can make pavers an unsuitable medium for certain crafts, such as table centerpieces or knickknacks, especially when placed on a finished wood surface. Some sealants and paints will diminish the roughness of paver surfaces, but weight will still be an issue.
Indoor Craft Ideas
Although raw concrete pavers are unsuitable for placement on a table or shelf, some paver crafts for indoor use are still possible. For example, the flat edge combined with the weight of the concrete makes an ideal doorstop. Using stencils and concrete-friendly paints, pavers become caterpillars, lounging snowmen, ladybugs and other whimsical doorstops. The beauty of indoor craft ideas is that the pavers require no additional sealants or adhesives to protect finishes from the elements. To protect wood floors, a piece of felt glued to the underside of the paver provides ample protection from scuffs and scratches.
Outdoor Craft Ideas
Scalloped-edge pavers also offer outdoor creative ideas. Laid on one side, several pavers in a box shape become an outdoor picture frame. Inside the frame, place a single square paver or add concrete and insert marbles or broken glass for an interesting mosaic steppingstone. Paint scenes, designs or simple characters on the pavers prior to using them to edge a garden. Give outdoor picnic tables a creative centerpiece by inverting three painted pavers. Leave in the center of the table as a flat, raised platform with a scalloped bottom for floral arrangements, a Lazy Susan or candles.
Holiday-Themed Ideas
The holidays bring out a bevy of decorations, knickknacks and craft ideas. To create a 3-D snowman from scalloped-edge pavers, use a small bead of concrete adhesive to join the flat edges of two pavers. Stand on one short edge and paint to resemble a snowman. Place on a fireplace hearth or use the snowman as a doorstop. Broken pavers, with a little paint, some wire rabbit ears and a white pompom, become sitting Easter bunnies lounging against a wall. When thinking up craft ideas for holidays, keep in mind the storage issues heavy concrete pavers present.
Photo Credits
BananaStock/BananaStock/Getty Images