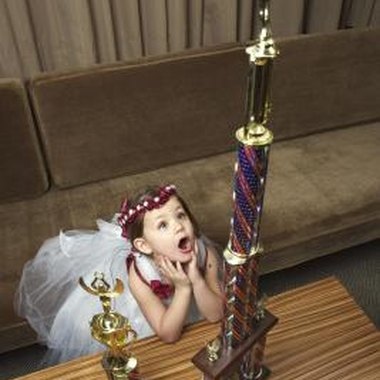 The world of beauty pageants has opened up to young girls in recent years in the U.S. and in other countries and many of these competitions include a speech portion. While the presentation is often more important to judges than the topic of the speech, choosing the right topic can help a contestant memorize and perform the speech perfectly.
Topic
For a young girl to successfully give a speech and enjoy the process, she should pick a topic that she is enthusiastic about, has relatively broad appeal and has a unique angle or perspective. The topic should stay away from controversial issues and current events. Example of workable topics would be what "beauty" means to the contestant, why she loves her home town or what her dream job would be and why.
Structure
The speech's structure should be simple and contain a only a few main points so it will be simpler for the contestant to practice, memorize and perform. The younger the child, the fewer main points there should be. While the speech should not be too casual, it should stay away from formal language. A child's speech with language that is too formal runs the risk of confusing her and making the speech sound overly stiff.
Humor
Most speeches will benefit from having a little humor sprinkled in, but pageant contestants should stay away from crude, suggestive or controversial humor. Family-style humor works best here, such as light-heartedly poking fun at her siblings, hometown or herself. She can also relate a humorous personal story relating to the speech topic if it does not digress too much from the main point. You can also switch common words for more exotic synonyms for a humorous effect, such as "codswallop" instead of "nonsense" or "flabbergasted" instead of "shocked."
Presence
But it's not only the words that will impact a judge's decision. A contestant's presence is also important. According to the American Speech-Language-Hearing Association, 80 percent of what people say is in their body language. Speakers should stand up straight and not fidget. Mostly, she should be as relaxed as possible and use her entire face to convey what she is saying. Hand gestures should not be used, or should at least be kept to a minimum.
Photo Credits
Thinkstock/Comstock/Getty Images