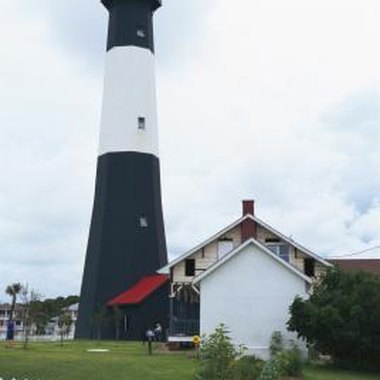 Savannah Beach, now known as Tybee Island, represents the quintessential South -- beautiful, laid-back and friendly. While Tybee Island is only 17 miles from downtown Savannah's historic district, the Island seems a world apart. In fact, Health magazine readers voted Tybee Island as one of America's healthiest beaches because of that low-key vibe. Part of the Island's feel can be attributed to its beaches-- they are spacious, uncrowded, clean and wind-swept. There are a total of five distinct beach districts on the Island, including downtown's South Beach, local's favorite Mid Beach, popular North Beach, family-friendly Savannah River Beach and quiet Back River Beach. Visitors to the Island are treated to a wide-range of lodging options that are as different as Tybee's beaches.
Ocean Plaza Beach Resort
Located on the southern end of Tybee Island, the Ocean Plaza Beach Resort is a kitschy and colorful resort in the South Beach region of the Island. The Resort's location grants easy access to Tybee Pier and Pavilion and Atlantic Ocean activities, such as deep-sea fishing charter operators, dolphin tours and nature hikes. Ocean Plaza Beach Resort is a full-service resort with 215 guest rooms, a restaurant and a convention center.
Beachside Colony
Beachside Colony is a sprawling ocean-front property offering condominium-style lodging in the Mid Beach area of the Island. Because it features roomy accommodations at reasonable rates, the Colony is popular with families. A restaurant on site delivers local seafood specialties and American fare.
DeSoto Beach Hotel
The original DeSoto Beach Hotel was built in 1939 for the exclusive use by guests of the Hotel DeSoto in Savannah, 17 miles away. Now open to the public, the DeSoto is a popular spot for locals and visitors alike. Twenty-seven rooms provide guests a small, communal feel, and the location -- close to sheltered North Beach with good access to Mid Beach -- is perfect. Georgia Magazine readers agreed by voting for the DeSoto as the best beach hotel.
Sandcastle Inn
A comfortable and family-friendly hotel, the Sandcastle Inn offers simple and affordable accommodations. Rooms have traditional hotel-style configurations, such as two queen beds or a king-sized bed. Located on the northern edge of the South Beach district, Sandcastle is within walking distance of prime Island shopping, art galleries, and a multitude of restaurant and entertainment options. The Inn also boasts the only salt-water swimming pool.
Photo Credits
Jupiterimages/Photos.com/Getty Images